Our Vision and Values
Our Purpose
To save lives and ensure everyone in our communities receives the right care, whenever and wherever they need it.
Our Vision
To be trusted as the best urgent and emergency care provider, with the best people and partnerships, delivering the best outcomes for patients.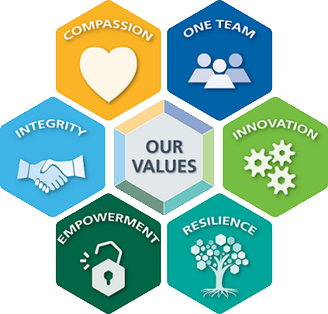 We share a common goal: to be outstanding at what we do.
We are collaborative and inclusive.
We celebrate success together and support each other, especially through difficult times.
We pioneer new ways of working.
We are at the forefront in developing professional practices.
We have a positive attitude and embrace challenges and opportunities.
We always support each other's mental and physical wellbeing.
We have the flexibility to adapt and evolve to keep moving forward for patients.
We remain focused and professional in the most difficult of circumstances.
We take responsibility for doing the right thing, at the right time for patients and colleagues.
We are willing to go the extra mile.
We continuously build our capabilities through training and development.
We are open and honest.
We adhere to professional standards and are accountable to our communities and each other.
We listen, learn and act on feedback.
We respect each other's point of view.
We deliver care with empathy, respect and dignity.
We are passionate about the care of patients and their carers.
We treat everyone fairly, recognising the benefits of living in a diverse society.
We listen to and support each other.