CFN - Volunteer Profile
Hear from Pam, one of our Critical Friends, about what the role is like.....
Tell us about you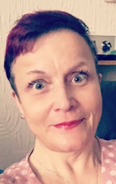 My name is Pam and I'm 51 years old.
I worked as an administrator for over 25 years until I had to stop working due to illness.
I'm a big music fan and I sing in a local fun community choir.
Why do you volunteer with YAS?
I became a volunteer for YAS as I had witnessed first-hand the services YAS provides; during 2010 I had 16 ambulance admissions to hospital due to a complex heart condition. All the staff from the 999 Emergency Operations Centre, the Community First Responders and the ambulance crews that responded to my calls were amazing. It was because of the care that I was given that I wanted to give back to the service, so when I was able to I applied to volunteer with the Critical Friends Network (CFN).
Why did you choose to volunteer with the CFN in particular?
As a volunteer I feel able to promote the service from a non-employee perspective as having experience of using the service helps to interact with the public. That's partly why I wanted to be part of the CFN, to give a personal prospective of the service. The CFN allows my voice and my opinions to be heard across the Trust and by senior management. No comment or idea is "silly" and it gives YAS a bigger picture of what the public and their patients relate to and what is important to them.
What does your role with the CFN consist of?
I have the opportunity to contribute towards service developments and improvements that are proposed within YAS. I often do this via virtual feedback over email or the telephone but I am also often invited to attend focus groups and meetings where ideas are tabled. Because I have experience of using the ambulance service I'm able to give a different perspective to that of staff members and, as a patient myself, I can articulate what's important to me and why. One of the projects I've been involved in previously included sharing my thoughts and advice with a Quality Improvement Fellow who was developing an e-learning training package about self-care advice for clinicians based within the Emergency Operations Centre. 
What have you enjoyed the most during your time with the CFN?
I particularly enjoyed being part of the station inspections last year which were held by the Quality Improvement Team. These were unannounced visits to ambulance stations and patient reception centres which followed a similar process to the visits conducted by the Care Quality Commission when they inspect the services YAS provides. The CFN was invited to join staff members from the Quality and Safety team on these visits and I really enjoyed seeing in great detail what is expected of the service and also gained more insight into the everyday workings and challenges the teams face.