#PurpleLightUp
03 December 2019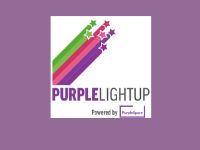 YAS 'Goes Purple' to Champion the Rights of Disabled People

Members of our Trust Board supporting #PurpleLightUp
YAS is supporting the #PurpleLightUp campaign which promotes the dignity, rights and wellbeing of people with disabilities.
The campaign will be marked on Tuesday 3 December 2019, which also is the United Nation's International Day of Persons with Disabilities, and aims to draw attention to the economic empowerment of disabled people.
As part of the event, YAS - which is a Disability Confident employer - will be turning the spotlight on its growing Disability Support Network which was started a year ago to promote inclusivity and diversity for staff with disabilities, including long-term health conditions and impairments. Some members will also be sharing their personal stories.
The group aims to:
raise awareness of the full range of disabilities, including 'hidden disabilities' and the requirements to make reasonable adjustments where appropriate
advocate confidential disability declaration across YAS
support colleagues through meetings, virtual networks and lived experiences
inform and involve our patients and staff in Disability Support Network projects
celebrate success and contribute to staff development activities
identify and combat elements of discrimination in relation to disability.
Tom Heywood, Chair of the Disability Support Network and YAS Process Improvement Manager, said: "The network is not just for people with disabilities, long-term conditions and impairments. It's about getting a good representation from across the Trust to ensure that everyone has the same opportunity to succeed, develop and contribute."
Staff Stories
Aneela's Story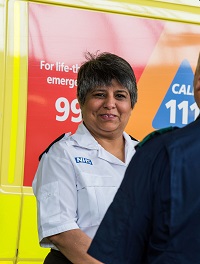 My name is Aneela Ahmed and I have been an Emergency Medical Dispatcher in the Emergency Operations Centre (EOC) in Wakefield for 23 years.
In 2017 I was diagnosed with Fibromyalgia Syndrome (FMS) which is a long-term condition that causes pain all over the body. Initially I thought my aches and pains were due to me having osteoarthritis in my left hip and knee following spinal surgery. But then the fatigue came along. If it wasn't for one of my team leaders in the EOC, I would have struggled on and not gone to the doctors.
I've had to make major changes in my lifestyle; not slow down but keep myself busy to fight the fatigue. For me that and the constant nausea and the foggy head are the worst. I can deal with the aches and pains.
Following an assessment and discussion, it's been agreed that my FMS goes on my record as a disability as it's a condition that's there for life and will get worse. That way at least I'm not worrying about being in trouble for going off sick.
For me, I think the hardest part was telling anyone at work what I was going through as I've always been the strong one, the smiley one, the one that makes everyone laugh and the first to help others, so I've been told. I didn't know how to help myself. Once I had spoken to one of my team leaders, I think the barrier was lifted, I didn't feel like I was a fake and that I shouldn't be moaning because there are people far worse than me!
Now I encourage my colleagues to come forward and speak about anything they are struggling with. It won't go away but sharing can make it a bit easier to deal with.
Chris's Story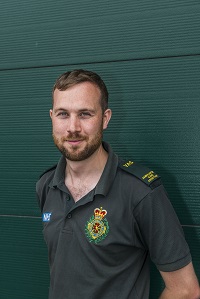 My name is Chris Sythes and I am a Community First Responder and Ambulance Care Assistant with the Patient Transport Service, working out of Whitby Ambulance Station
I have Long QT Syndrome which is a disorder of the heart's electrical activity. I fainted in 2008 as I was waiting for my start date to join the Navy. An ECG revealed that I had the condition which affects repolarization of the heart after a heartbeat and results in an increased risk of an irregular heartbeat.
This meant that I was medically discharged from the Navy and after another fainting episode the following year, I had an implantable cardioverter defibrillator (ICD) fitted, which a small device used to treat abnormal heart rhythms.
I'd always had an interest in the ambulance service so it was a massive boost for me when I became a volunteer Community First Responder in 2011. Not only can I make a difference to other people's lives, I really feel able to provide that additional empathy, not just for patients, but also for the families because I know how much my diagnosis affected my loved ones.
In 2014 I was thrilled to gain employment with YAS's non-emergency Patient Transport Service and in 2017 was promoted to a Band 3 Ambulance Care Assistant which means I can provide more hands-on care.
I know my condition means I will never be able to drive emergency vehicles for the Trust but having a disability in Yorkshire Ambulance Service is not an issue with the modern and dynamic values the service adheres to. The support I have had from the Disability Support Network has been a huge help to see if there were any adjustments needed to fulfil my role to the highest standards and as safely as possible. I am now confident and happy in my work and I'm able to support my fellow staff.
Tom's Story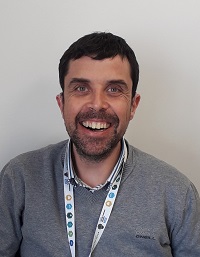 My name is Tom Heywood and worked as a full-time Paramedic/Paramedic Practitioner for 11 years before changing career path. I am now a Process Improvement Manager, based at YAS HQ in Wakefield, and Chair of the YAS Disability Support Network.
I have been deaf since I can remember and have worn hearing aids from the age of four. In 1995, when I was 16, I discovered I had kidney failure and had a transplant (from my dad) when I was 19 but it's my hearing that gives me more bother than anything else because I find it hard to define some sounds and that can be frustrating.
I joined the ambulance service as a technician in 2001 when I was 23. The powers that be were supportive of me joining the service, it just took a little bit longer and I had to jump through more hoops to prove that I would be an asset. Then I qualified as a paramedic in 2003 which I was really happy about. Adjustments were made to help me on the frontline; I had an electronic stethoscope and blood pressure cuff to help make the basic observations easier. My patients didn't receive different care or a different outcome, I just had to work in slightly different ways. Often it gave me an affinity with patients because of our shared experiences.
I came off the road and joined the Clinical Pathways Team in 2014 on secondment until 2018 when I became a full-time Process Improvement Manager. I received the support I needed to help me in my Pathways role with some more specialist hearing equipment to help me in meetings.
When you have a condition or a disability, there is always something extra to think about, always a bit more resistance to get through, but with the right amount of support, you get there.
I'm really passionate about my role with the Disability Support Network; for me it's about making sure everyone is treated equally and allowed to fulfil their potential without hindrance, whether they have a disability or not.
Produced by: Corporate Communications Department