Mark the 72nd anniversary of the NHS by thanking the staff who are making huge sacrifices to keep their families safe
03 July 2020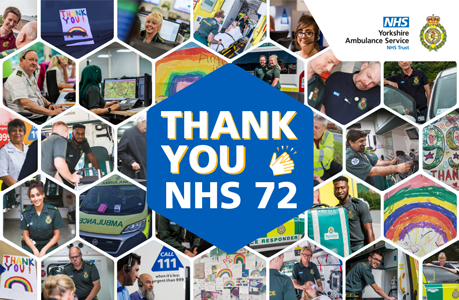 As the NHS reaches its 72nd anniversary on Sunday 5 July, this will undoubtedly be a time of reflection following the most challenging four months in NHS history.
Yorkshire Ambulance Service NHS Trust (YAS) couldn't have coped without the unwavering commitment and dedication of its staff and volunteers who continue to respond to the COVID-19 pandemic.
Our work has been boosted by the love, appreciation and support shown by communities across Yorkshire so the biggest, loudest and final 'clap for carers and key workers' on Sunday 5 July at 5pm will be a chance for us to say 'thank you' to everyone who has helped us to respond to this global crisis.
While life is slowly beginning to return to normal for many, 28 selfless ambulance service staff working on the frontline in the fight against COVID-19, continue to live away from high-risk loved ones in a bid to keep them safe. They are living in hotel accommodation to protect their family members who face additional health risks.
Rod Barnes, Chief Executive of YAS, said: "This NHS anniversary provides us with an opportunity to thank our staff, volunteers and communities across Yorkshire for their support over the last four difficult months, and remember and reflect on the lives of those we have lost to this devastating virus.
"I would also like to acknowledge those staff who have made, and continue to make, huge sacrifices by living away from their family home to protect loved ones who are at risk. I know how challenging this year has been for our staff, but the fact that many still cannot return to their loved ones at the end of their shift makes it all the more difficult and I am humbled by their loyalty and dedication."
On the evening of Saturday 4 July, as part of the national initiative, everyone is being asked to put a light in their windows in remembrance of those we have lost during the pandemic. This could be a candle, a lamp or a torch. Public buildings including the historic city walls of York, Wakefield Town Hall clock tower and Harrogate's Nightingale Hospital will also be lit up in NHS blue.
To mark the anniversary, we will be sharing the stories of the sacrifices our staff are making by isolating away from their family members so they can continue to help patients across Yorkshire.  In addition to the provision of accommodation funded by the NHS, the Yorkshire Ambulance Service Charity is supporting colleagues by providing care packages and support with laundry and cleaning materials as many of the hotels are still offering a basic service.
Produced by: Corporate Communications Department