Procurement and Logistics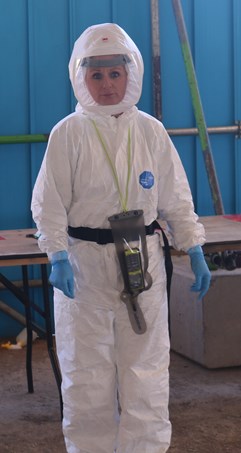 The main focus of our Procurement and Logistics Team during the pandemic has been to ensure adequate and regular supplies of Personal Protective Equipment (PPE) and other critical items including medical gases.
The team has had to adapt and refocus its resources on identifying new suppliers of PPE, alternative PPE and other essential items when they were in short supply.
To demonstrate the scale of the team's workload, in the three months from the beginning of March 2020, they sourced:
550,000 masks
350,000 aprons
38,000 coveralls and gowns
39,000 pairs of eyewear/eye protection
1.9 million gloves.
Colleagues from other parts of the Trust have stepped in to help with the around-the-clock distribution of stock, undertaking daily stock takes and supporting the forecasting of demand.  
Matt Barker, Head of Procurement and Logistics, said: "Observing the behaviour of everyone in the team, seeing them operate as one team is something I am extremely proud of. Whilst the Logistics Team have been fantastic in ensuring an adequate stock of PPE is available at all times, they have had unbelievable support from our Category Managers, chasing up orders or finding alternative products or alternative suppliers. The regular feedback from colleagues across the Trust on how we have supported our key functions I think backs this up and is reward for the work we have done at a very early stage to build resilience."
Matt also paid tribute to his counterparts at other acute trusts across Yorkshire and at ambulance services, particularly within the Northern Ambulance Alliance.
He added: "Not only have we helped other trusts at times of critical need such as providing respiratory protective equipment to another ambulance service and gowns and masks some Yorkshire hospitals, but trusts have supported us when we have seen spikes in demand.  It would be easy for everyone to focus solely on their own challenges, but this has certainly not been the case."