No Smoking Day - 8 March 2023
08 March 2023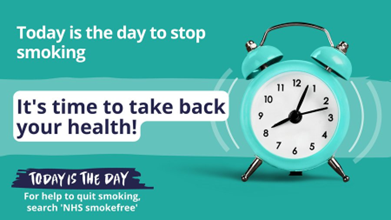 Stopping smoking is the single most helpful thing you can do to improve your health and the health of the people around you.
Every year more and more people quit smoking, and enjoy the better health, wealth, lifestyle and life expectancy this can bring.
There are always health and financial benefits to quitting smoking, but quitting now will help you:
1. Reduce your risk of diseases caused by smoking such as cancer, diabetes, heart attack, emphysema, bronchitis and stroke. Quitting will improve your health and reduce pressure on the NHS.
2. Stopping smoking allows your body to repair itself – after eight hours oxygen levels return to normal, after two days, your lungs start clearing out smoking debris, after three days breathing becomes easier and within weeks, your heart attack risk begins to drop. Watch this film which explains all the benefits of quitting.
3. Protect the health of others. Exposure to second hand smoke also increases the risk of complications from respiratory infections, especially in children. It also increases the risk of heart attacks, strokes and cancer.
Ways you can get support to quit
Stop smoking services - support from trained professionals can triple your chances of successfully stopping smoking.
Medications and vaping - using other sources of nicotine such as e-cigarettes and stop smoking medicines can double your chances of successfully stopping smoking.
NHS remote support - good online advice from NHS Smokefree and the free Smokefree app can also help improve your chances of successfully stopping smoking.
More information is available here.
Produced by: Corporate Communications Department