Long Service Week 2018
17 September 2018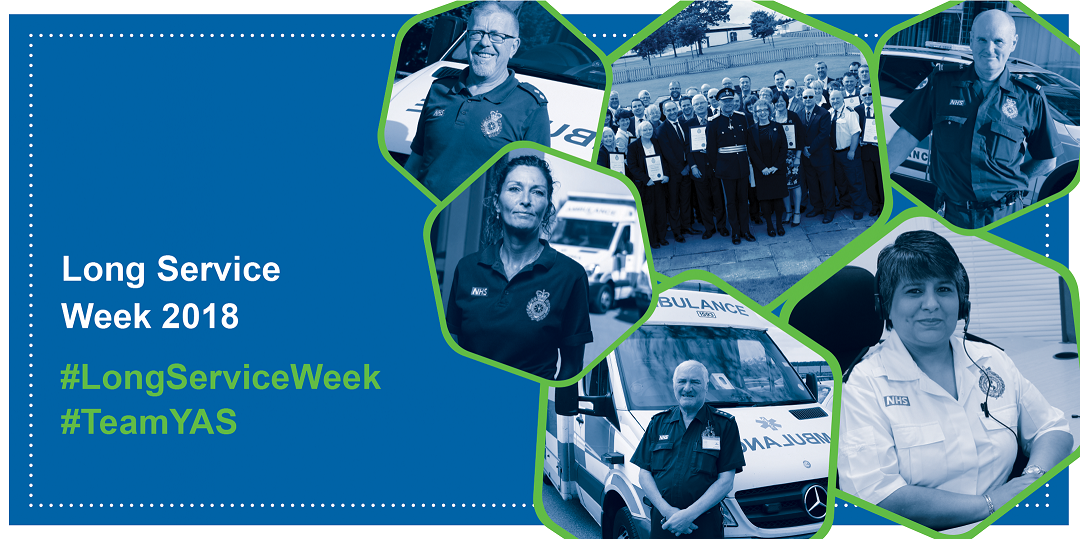 Aneela Ahmed - Emergency Medical Dispatcher (21 years' service)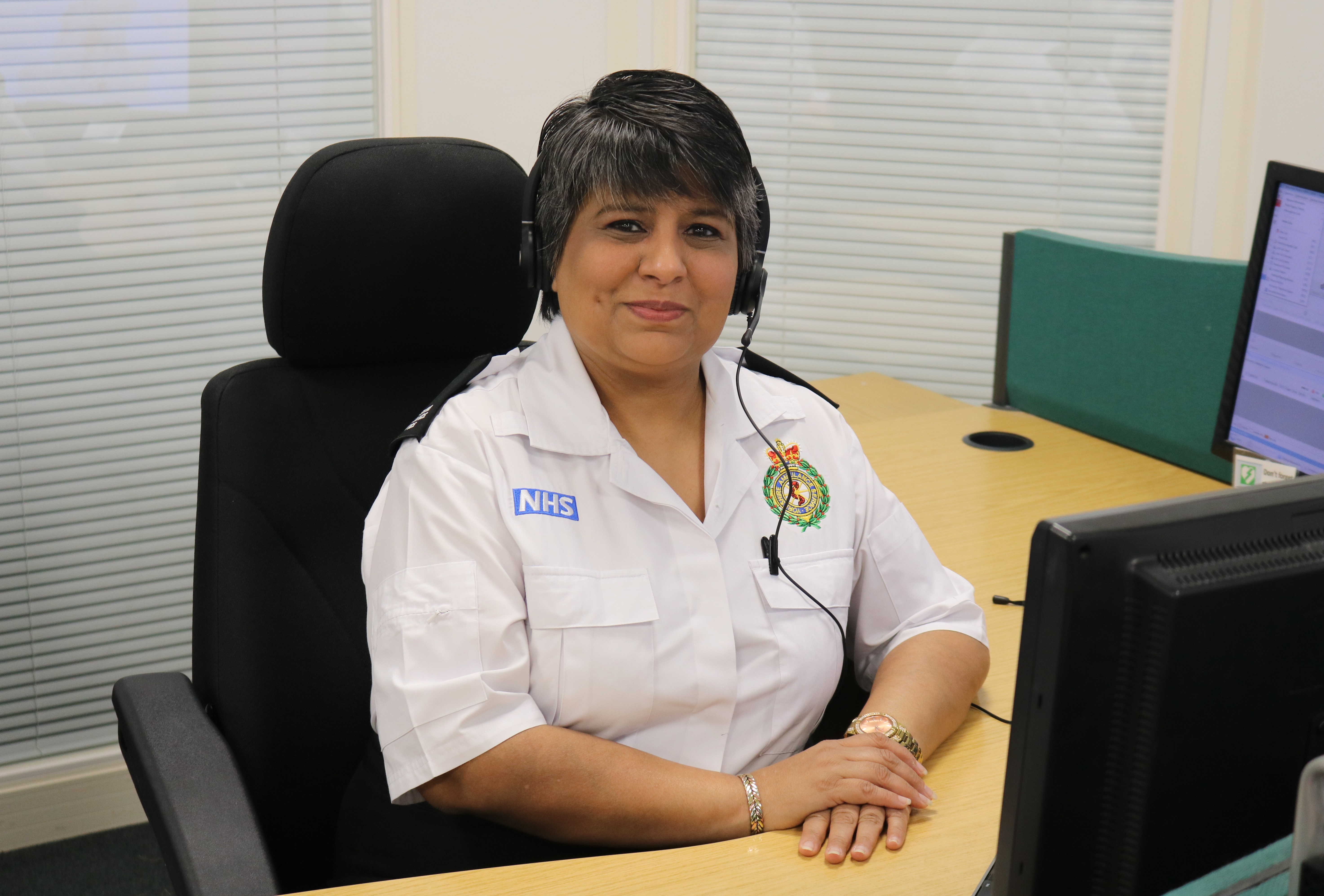 In August 1997, Aneela applied for a secretarial role with the ambulance service, but was taken on as a call handler after being told that she had a "very polite" voice.
When Aneela started answering 999 calls, she used sets of cards - a far cry from today's computerised system. Although the technology has changed, the unpredictability of each shift has not.
Aneela, from Bradford, said: "You don't know what you're going to get. It could be anything from somebody having a baby to a cardiac arrest, so you've got to be prepared. It keeps you on your toes."
She says that it can be a very demanding job, but extremely rewarding at the same time.
Aneela added: "People are distressed when they call us and they need somebody who can be sympathetic and understanding, and we are there for them. It's very fulfilling and definitely the best job in the world."
Her many highlights over the years include setting up a team of Community First Responders in Bradford and helping to deliver more than 40 babies.
She concluded: "The role of an Emergency Medical Dispatcher has prepared me for my other role in the community as a local councillor. The job has taught me patience and perseverance, as well as sympathy and empathy, and I pride myself on my customer service, which helps me in both roles."
Brian Dalby - Private and Events Resource Supervisor (31 years' service)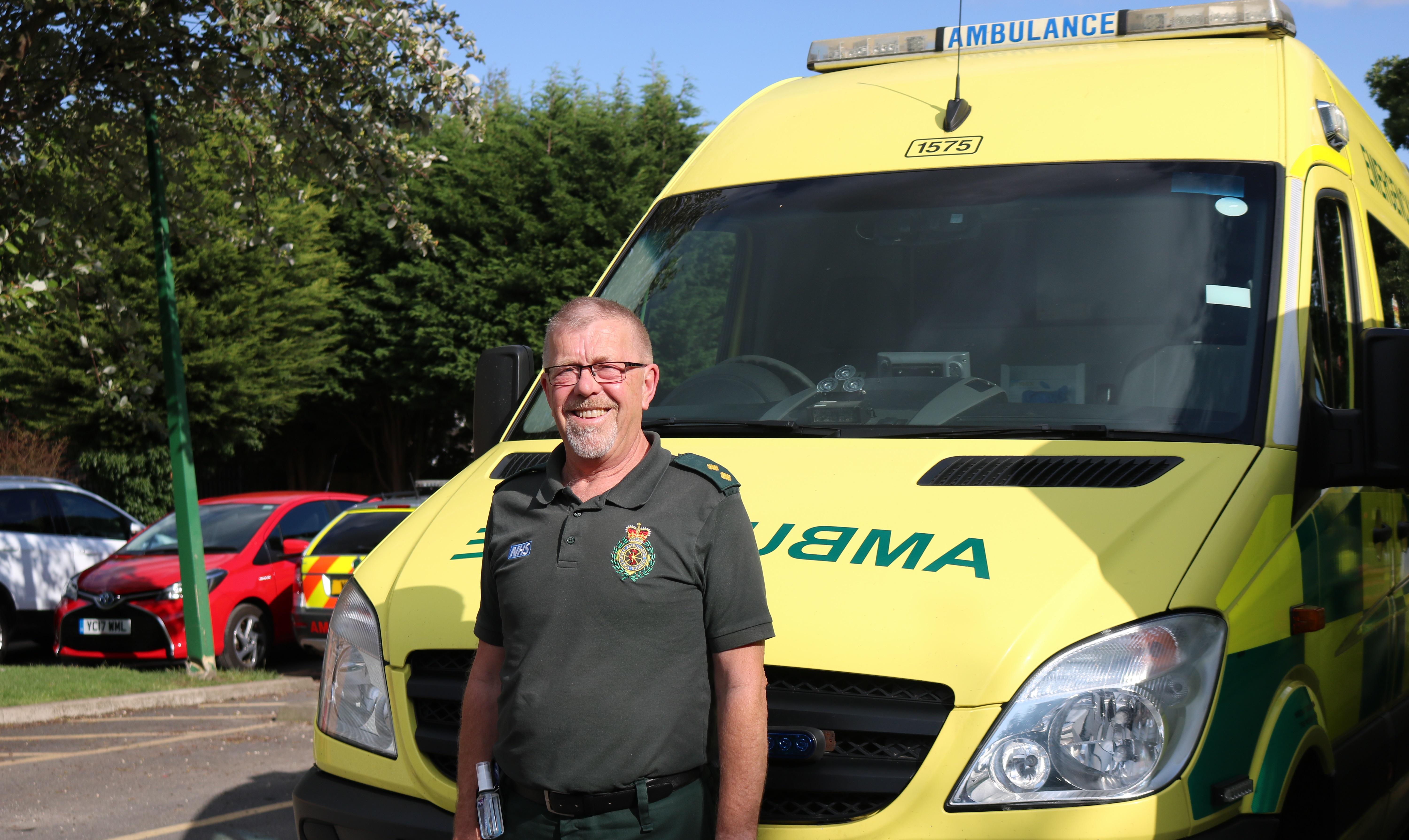 Brian joined the ambulance service in June 1987 and spent nearly 18 years with the Patient Transport Service in and around Harrogate.
He now works in the Private and Events department which provides transport for private patients and medical cover for everything from football matches to concerts.
Brian is also a regular visitor to the set of TV soap Emmerdale and has appeared on screen as part of an ambulance crew.
He says the job is "brilliant", especially for anyone who has an interest in sport or music.
Speaking about the team he works with, Brian said: "It's a real family atmosphere and everyone knows what they're doing. I enjoy coming to work and get a good sense of achievement from it."
Brian has no plans to retire anytime soon and he is encouraging anyone else who is thinking of retiring from the ambulance service to join his team. He says that would make him "even happier".
Jack Youngs - Specialist Paramedic (31 years' service)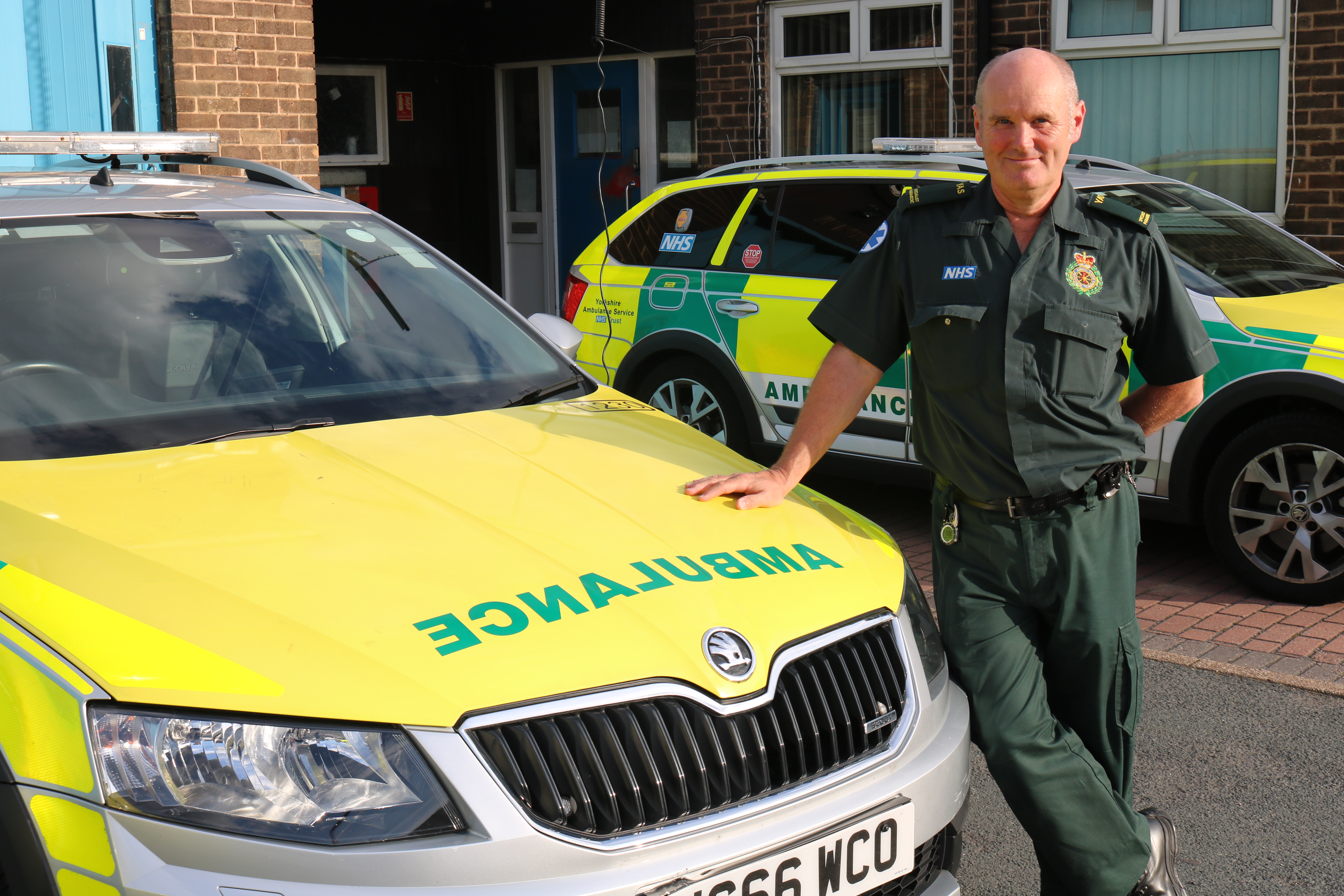 Jack joined the ambulance service in July 1987 and his first job was taking patients to clinics in the Barnsley area.
In 1991, he started working in accident and emergency operations at Longley Ambulance Station in Sheffield and trained as a paramedic in 1994. A few years later, he returned to the Barnsley area and has been there ever since.
Jack is now based at Hoyland Ambulance Station and became a Specialist Paramedic last year, which means that he is trained to carry out enhanced assessments, wound care and administer antibiotics.
He said: "I found the training course quite challenging, but it was rewarding at the same time to know that I've achieved it."
Jack has many highlights from his time with the service, including the week when he delivered two babies.
He added: "There's variety, reward, sadness and sleepless nights sometimes, but I've enjoyed my career and met my partner on the job."
Speaking about his Long Service Award and Queen's Medal, Jack said: "It's nice to get reward and recognition for the service you put in."
Mandy English - Paramedic (21 years' service)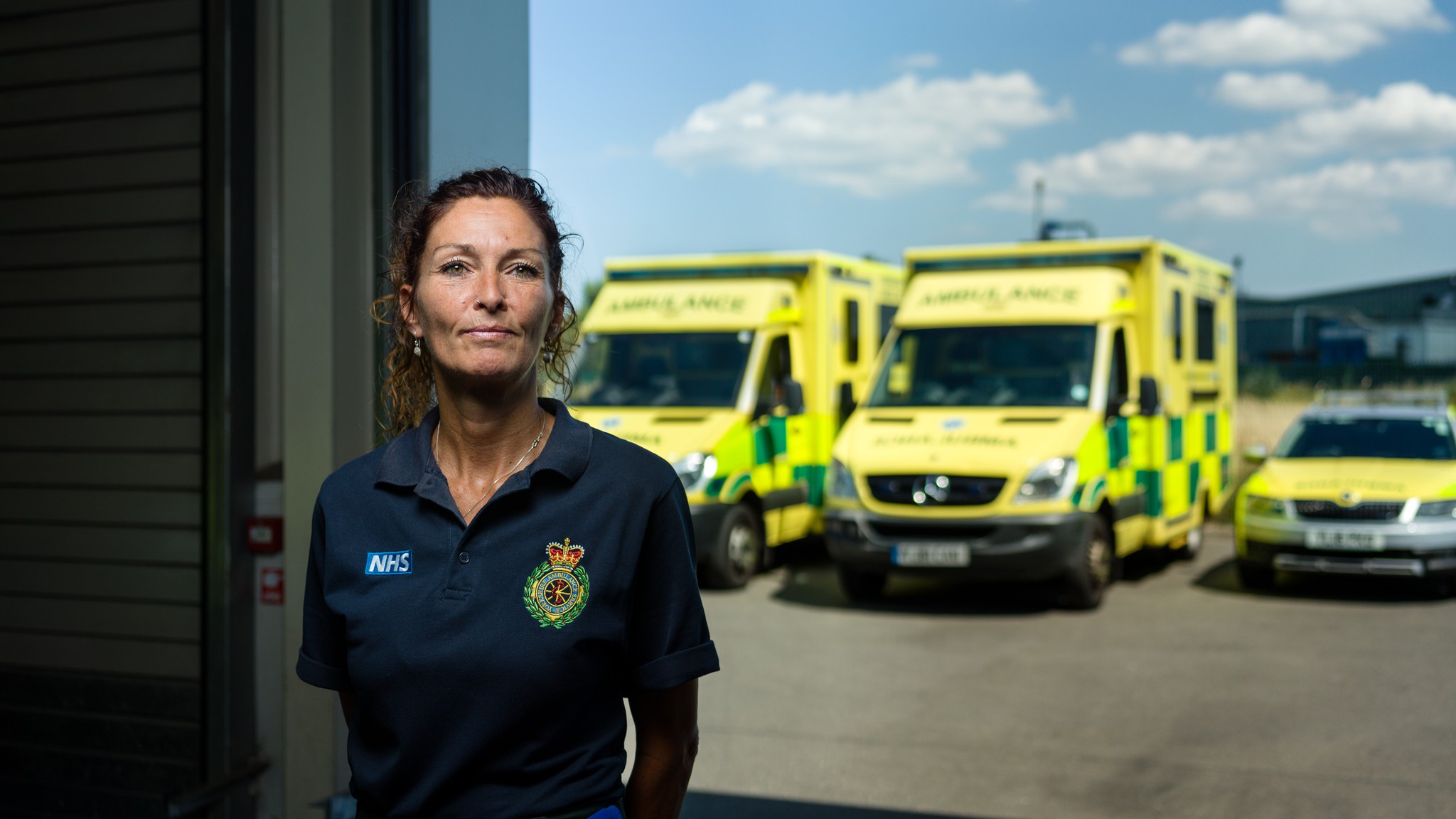 Mandy, from Beverley, had always been interested in being a paramedic, but 21 years ago, the only way in was to get a job in the Patient Transport Service, which is exactly what Mandy did.
She said: "I did a variety of jobs prior to joining the ambulance service, but was constantly looking for vacancies to come up in the ambulance service. In July 1997, after seeing a vacancy for a job in patient transport, I started my 21-year-long career. I worked my way up, firstly training to be a technician, which I did for five years before qualifying as a paramedic in 2005 and finally achieving my ambition."
Mandy worked from Hull Central Ambulance Station for many years before it closed and then transferred to Hull East Ambulance Station, where she is still based.
It is first and foremost the people who have kept Mandy working as a paramedic at Yorkshire Ambulance Service for over 20 years.
She said: "I'm definitely a people person. I've been lucky to have met and worked with some fantastic people, including staff from YAS, the police and fire service and, of course, all of the patients I've been able to help over the years."
Making a difference to patients is what drives Mandy and she feels that one of the major improvements which has been implemented at YAS since she started in 2005 is the ability for paramedics to now be able to refer to a range of services. 
Mandy added: "When I first started as a paramedic, the only option we had was to treat and take the patient to hospital. Now, here at YAS, we are able to refer a patient to a number of other services including local authorities, diabetes clinics and primary care services. This means that we can refer and signpost patients to the right care at the right time."
Teamwork is vital to the role of a paramedic and Mandy works her shifts with a regular crewmate. She has worked with her current crewmate for over four years.
She said: "Working together, you get to know each other very well, which means we are able to help and support each other through our shifts, which can at times be difficult, depending on what type of incident we attend."
Ray Baker - Clinical Supervisor (41 years' service)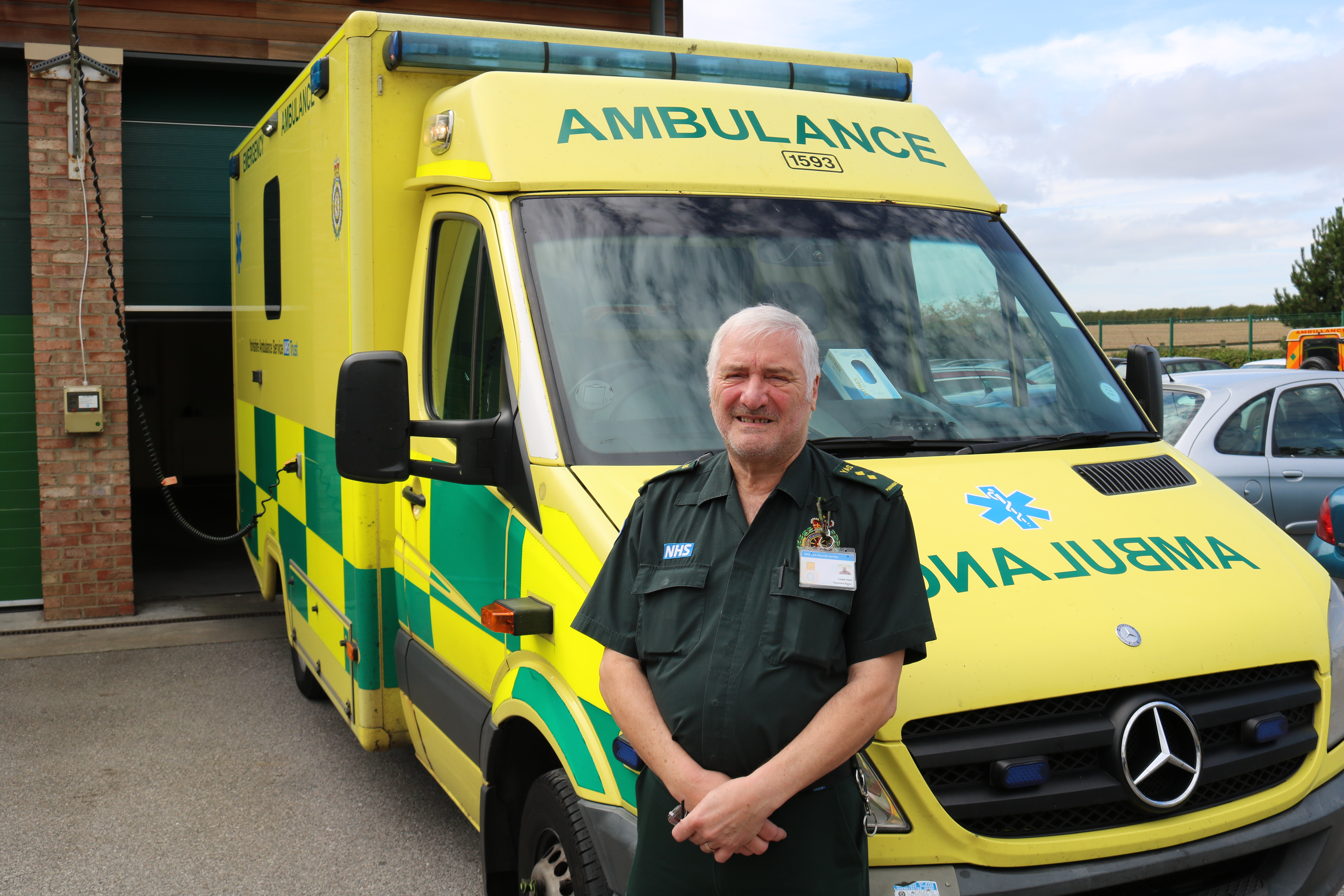 After working as a sales rep, Ray joined the ambulance service in January 1977. He took on a temporary job doing outpatient work in Hull and loved it from day one.
16 months later, he moved into accident and emergency operations at Beverley and was sent to training school for six weeks.
Ray said: "We did outpatients as well in those days, so you'd often go to something like a road accident with two or three patients on board, because you were the nearest crew. You wouldn't do it now, but in the rural areas, it was quite common."
When defibrillators were introduced in the mid-1980s, Ray and his colleagues found themselves raising money for the new equipment through events such as coffee mornings and pub quizzes. He says the machines were "a real game-changer".
Their introduction was quickly followed by paramedic training and the service has constantly evolved ever since.
Ray added: "You never get two days the same, so you don't get a chance to be bored. There's always something new to learn."
He retired several years ago, but then returned to the service on a part-time basis and now works as a Clinical Supervisor, which includes responding to incidents and providing support to staff. Ray also spends time in the NHS 111 call centres in Wakefield and Rotherham at weekends.
Ray concluded: "I've been really lucky in this job. It's done so much for me."
Helen Beaumont-Waters - Emergency Care Practitioner (25 years' service) and Alison Kelly - Paramedic (25 years' service)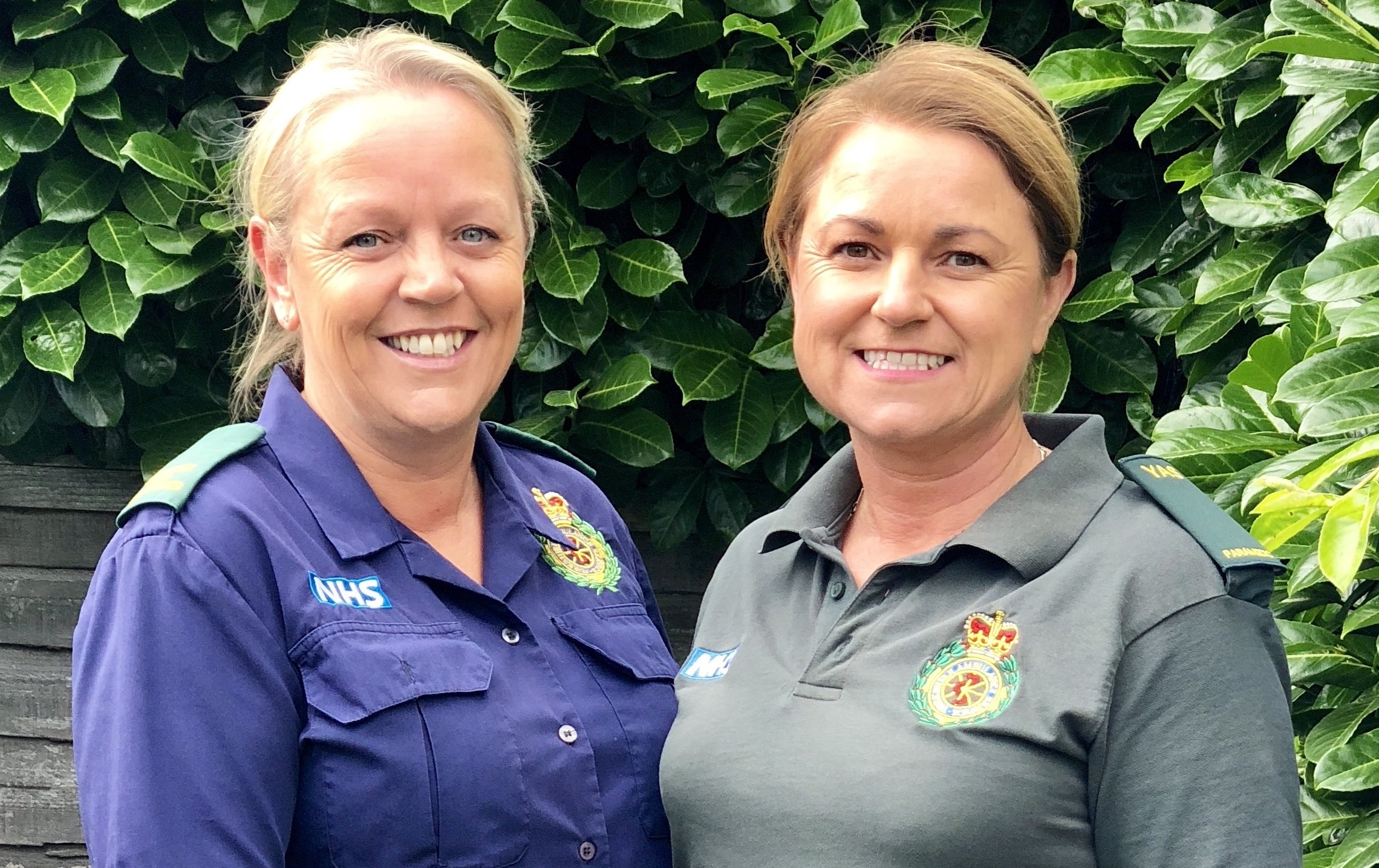 Helen and Alison, sisters from Birkenshaw in West Yorkshire, both joined the ambulance service in 1993 as call handlers in the 999 control room which, at that time, was located in their home town. Alison had previously worked in the Tax Office after completing her A-Levels and Helen had worked for an insurance company.
After a year in the control room and being inspired by the work of the frontline crews, they transferred and trained as ambulance technicians. Completing further training, they qualified as paramedics, and this year they both celebrated their 25th anniversary of working for the ambulance service.
Helen qualified as a paramedic in 1996 and, by 2006, she had completed advanced level training at the University of Hull to become an Emergency Care Practitioner (ECP). She has a real passion for learning new skills and extending her qualifications, most recently completing a BSc (Hons) Degree in Podiatry, a Postgraduate Diploma in Advanced Clinical Practice (ACP) and is also participating in a Health Education England pilot to train allied health professionals to work as advanced clinical practitioners in General Practice. Helen is also a qualified non-medical prescriber and is currently working on completing the final module for her Masters in Advanced Clinical Practice.
Alongside her studies, Helen continues to complete a weekend shift every month as an ECP based at Bradford Ambulance Station.
Helen added: "I love my job and all the people I work with. I started on the road in Bradford and looked up to some great characters who encouraged me to train and develop my skills. As an ECP, I have also worked in other areas in West Yorkshire, but I'm happy I'm back in Bradford; it's where it all began for me."
Thinking about changes within the ambulance service since they both began their careers, she said: "There are now some great opportunities for clinicians to develop their skills and that's something which has always been important to me. The profession as a whole now has more recognition and scope than ever before."
Alison has mirrored some of her sister's career steps and similarly qualified as a paramedic in 1997. She has spent much of her career based at Brighouse Ambulance Station and also on secondment in Halifax and Bradford, where she worked as a Clinical Team Leader.
She is also the West Yorkshire Golf Society Captain, a post which she has held for 10 years, and is the only female member.
Alison said: "There are not many jobs where you feel that you can make a difference and people say 'thank you'. I love my job and wouldn't want to do anything else. Whilst it would be easy to take the job home with me, I don't do that - it makes it more difficult to cope with when it gets too personal."
During their careers, the sisters have worked together on an emergency ambulance.
Alison said: "Before we had children, we used to pick up shifts together. It was great working with each other and, whilst we don't look alike, we sound very similar which could cause confusion sometimes!"
Both agree that, even though it is so much busier now than when they first started in the service, they wouldn't swap their careers for anything else. Helen and Alison were joined by their proud parents to celebrate their long service achievement.
Produced by: Corporate Communications Department