Join the YAS Defib Hunt 2018!
01 October 2018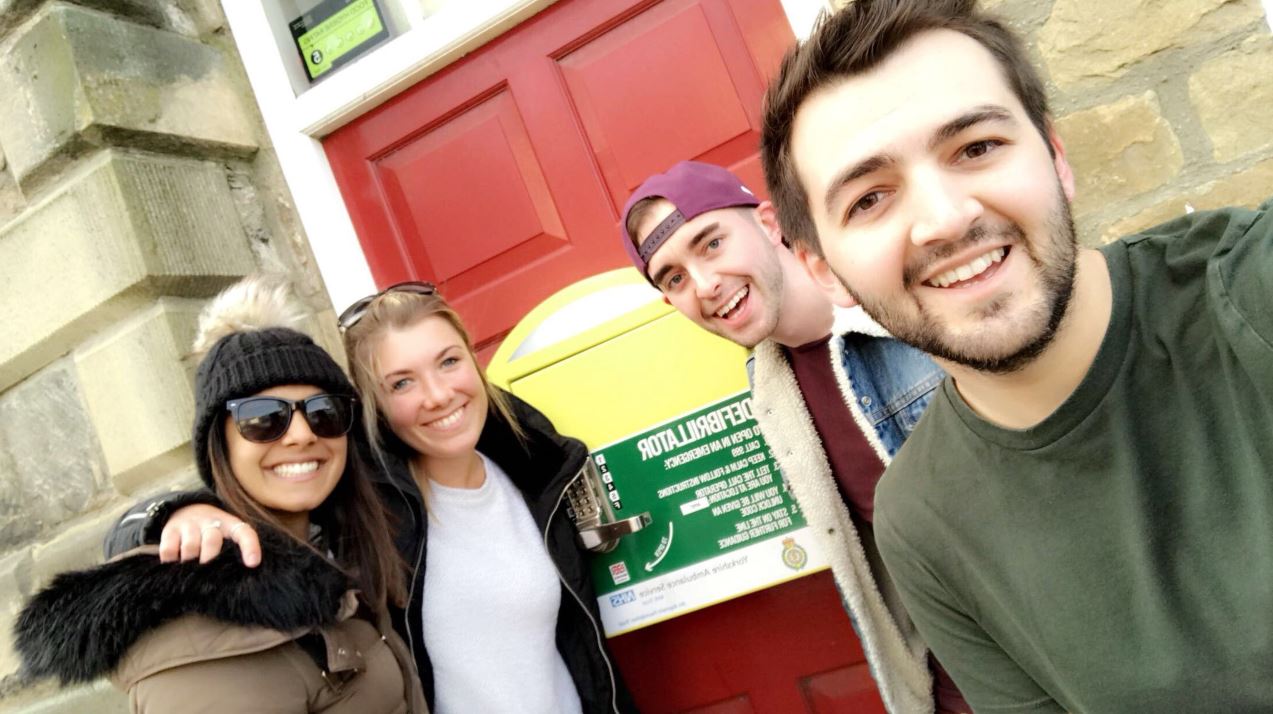 We have launched a campaign to help hunt down life-saving defibrillators across the region.
During October, members of the public are being urged to take selfies with the kit when they are out and about and send them to us on social media using the hashtag #YASDefibHunt with details of the device's exact location.
Some defibrillators are bought with the best of intentions but are not registered with YAS. It is essential that the Trust knows the locations of all defibrillators so staff in our Emergency Operations Centre can direct 999 callers to them in the event of a patient suffering a cardiac arrest nearby.
Paul Stevens, Head of Community Resilience for YAS, said there are now 3,095 known defibrillators across Yorkshire - an increase of 29% from this time last year - but there are many more which have not been registered on the YAS database.
"We need to make sure that every single defibrillator that is purchased across the county is registered with Yorkshire Ambulance Service so we can ensure they are put to good use in the event of a cardiac arrest," said Paul. "We ran the YAS Defib Hunt for the first time last year and as well as finding 41 previously unregistered defibrillators, the campaign also helped us to raise the profile of the importance of these life-saving devices.
"We would urge members of the public to support our YAS Defib Hunt again which will ultimately help us to save more lives."
The location of defibrillators, often in yellow or green cabinets, can sometimes be marked with a white heart on a green background, or they could just be mounted on a wall behind a bar, in gyms, leisure centres, offices, tourist information centres, schools, colleges, railway stations, restaurants - anywhere at all!
Defibrillators are easy to use, easy to carry, provide audible instructions to the user and will not deliver a shock unless it is required. No training is required to use the equipment.
The campaign is being run to mark Shoctober - a national initiative to raise awareness about the importance of defibrillators - and ties in with the Trust's plans to provide cardiopulmonary resuscitation (CPR) training to more than 25,000 secondary schoolchildren on Restart a Heart Day on Tuesday 16 October 2018. A cardiac arrest occurs when a person's heart stops pumping blood around their body and to their brain. The earlier a patient can receive CPR and a shock from a defibrillator, the greater their chance of survival.
Support the campaign
If you see a defibrillator, take a selfie with it and send it to YAS with details of the exact location (building number/name, street, town/city) and the hashtag #YASDefibHunt via:
Twitter - @YorksAmbulance
Facebook - @yorkshireambulanceservice
Instagram - @YorksAmbulance
Email - yas.corpcomms@nhs.net
Don't worry if you don't want to send us a photo, just send us the location details and we will make sure they are all logged on their system and ready to use in an emergency.
Encourage others to join the hunt!
Show your support by encouraging others to send us their Shoctober selfies.
Download the following resources for use on social media or in your community.
Thinking about buying a defibrillator?
YAS is working with community groups and charities, including the Yorkshire Ambulance Service Charity, to encourage the introduction of as many community Public Access Defibrillators (cPADs) across Yorkshire as possible.
If you are considering buying a defibrillator for your community, please contact our Community Resilience Department in the first instance by emailing Community Defibrillation Co-ordinator Kiri Frampton, email kiri.frampton@nhs.net or phone 07464 493852.
Produced by: Corporate Communications Department