Patient Transport Service (PTS)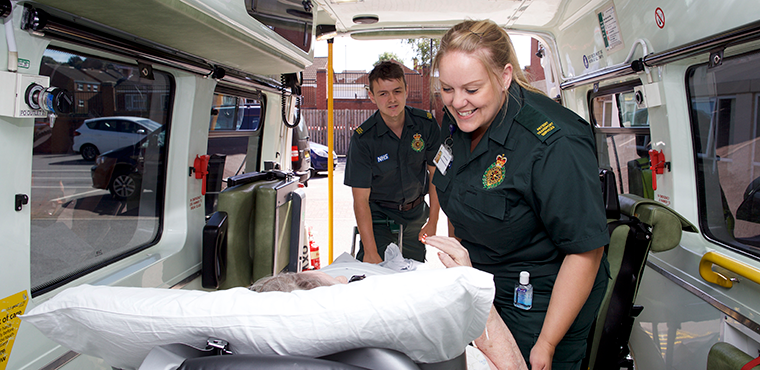 Important information relating to COVID-19
Wearing a face mask for the duration of your journey will allow us to plan your transport quickly and easily. If you are unable to wear a face mask you will need to travel in one of our larger vehicles; we have less of these available and so that may mean a longer wait for a seat to become available.
Social distancing remains in place in our ambulances and patients will be seated at least one metre from others and as far away from the crew as possible. For most journeys, this limits us to one patient per journey and therefore, our resources remain limited.
With these factors in mind, before contacting us to arrange a journey, please consider:
Could a friend or family member drive you?
Could you get a taxi, use public transport or contact a local volunteer travel scheme?
Are you able to drive yourself?
Are you aware of the

 

Healthcare Travel Costs

 

scheme?
Our Patient Transport Service (PTS) provides NHS-funded transport for eligible people who are unable to travel to their healthcare appointments by other means due to their medical condition.
Our PTS undertakes almost a million non-emergency journeys every year, making us one of the largest providers in the UK.
We have a fleet of more than 370 vehicles, employ over 800 team members and have around 200 volunteers.
Our PTS Patient Charter explains our responsibilities and our commitment to providing the highest quality service to our patients. It has been designed in conjunction with hospitals and other healthcare organisations and professionals that you might come into contact with. It explains your rights as well as your responsibilities when travelling with us. A copy of our patient charter can be viewed here.
To find out more about PTS and the service we provide, use the links on the left.
Becoming Dementia-Friendly
Our PTS is committed to providing dementia-friendly transport and delivering person-centered care that supports those living with dementia.
Click here to find out more about our dementia-friendly campaign, or to complete our survey. This has been designed to capture the views and experiences of people living with dementia, and their carers, so that we can act on feedback to improve the quality of service that we provide.