Cardiac arrest survivors and their life-savers support 10th anniversary of life-saving Restart a Heart campaign
16 October 2023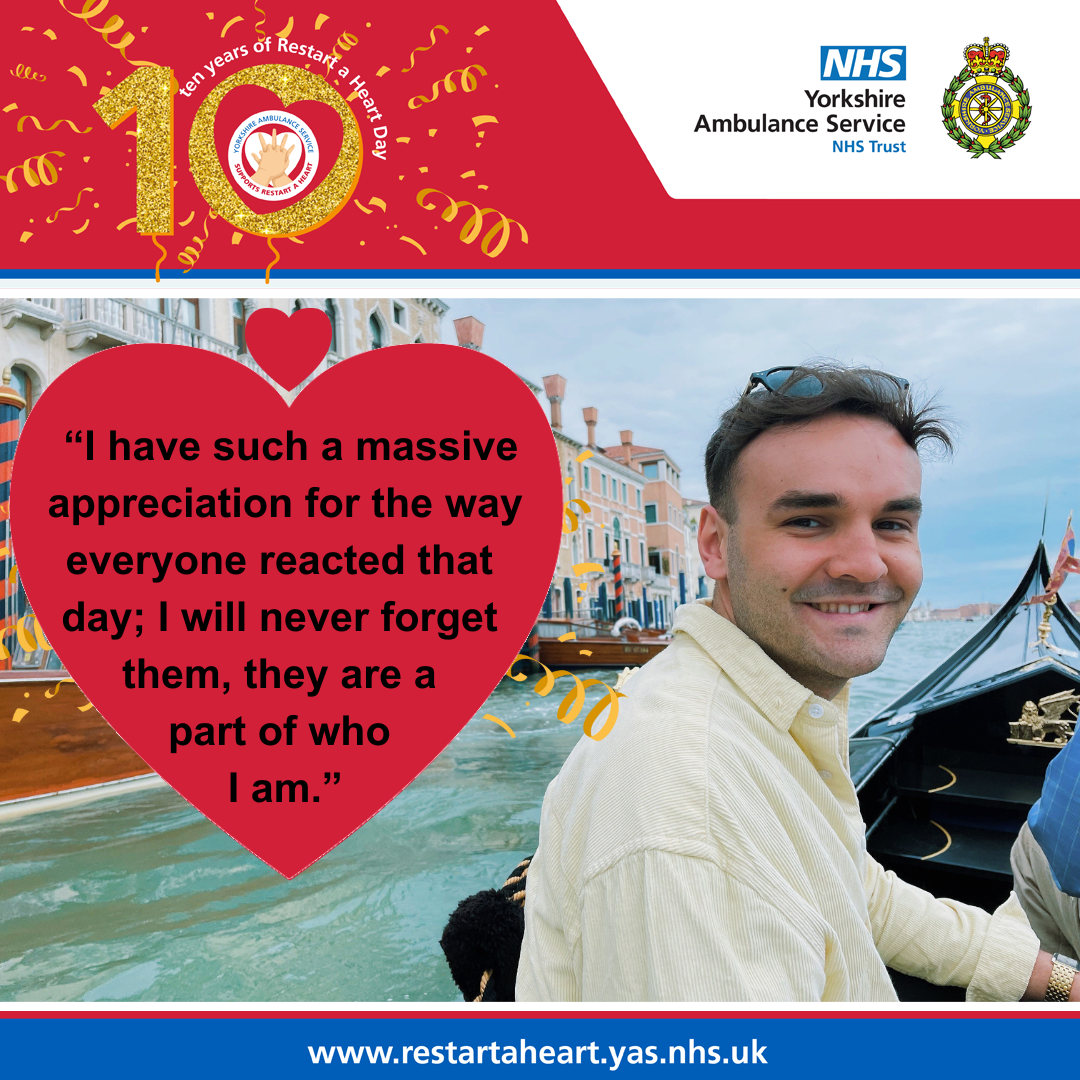 Twenty-four-year-old Alex Cowes will be returning to the school where his life was saved when he had a cardiac arrest as a teenager to mark the 10th anniversary of Restart a Heart Day.
Alex took part in Yorkshire Ambulance Service's inaugural Restart a Heart Day at Fulford School in York in 2014. The following year, the 15-year-old suffered a cardiac arrest in PE and was saved by school staff who performed CPR and used the on-site defibrillator.
Alex's story inspired Yorkshire Ambulance Service to continue with the annual mass CPR training at the county's secondary schools on Restart a Heart Day which will celebrate its 10th anniversary on Monday 16 October, having taught CPR to 202,529 youngsters during 881 school visits thanks to off-duty ambulance staff and volunteers giving 33,613 hours since 2014.
During that time bystander CPR rates in Yorkshire have increased from 39.9% (2014) to 75.7%* (2022), according to preliminary data published by the University of Warwick.
Jason Carlyon, Community Engagement Manager for Yorkshire Ambulance Service, founder of the event in Yorkshire, said: "When we held the first Restart a Heart Day in 2014, we always said if it saved one life, it would be worthwhile, but we never expected it to be one of the pupils who had participated. Alex's story inspired us to make the campaign an annual event, so it is a real privilege to have him with us at Fulford School as we celebrate our 10th anniversary and reflect on the many lives which have been saved because of people learning CPR.
This year's anniversary event, which will see more than 35,000 students learn CPR at 166 secondary schools across Yorkshire and is set to be the biggest yet, is supported by other cardiac arrest survivors and life-savers:
Mum-of-one Megan Hughes, of Wakefield, is set to marry her partner who saved her life when she had a cardiac arrest at the age of 23. She will share her story with students at Crofton Academy in Wakefield.
Community First Responder Keith Townson who was saved by his wife and two fellow Community First Responders in Burton Leonard, near Ripon.
• Derek Hemmingfield who was saved by off-duty NHS staff when he collapsed while playing tennis at St Andrew's Tennis Club in Sheffield
Other initiatives to mark 10 years of Restart a Heart Day include:
York-based thespians at Yorkshire Ambulance Service have produced a tongue-in-cheek 90-second film in the style of a 1940s public information broadcast with a serious message – if you see someone who has collapsed and isn't breathing, be assertive and start CPR.
Leeds-based swing band The Big Easy will provide the live soundtrack to CPR training at North Huddersfield Trust School on Restart a Heart Day. All the music they perform will be 120 beats per minute – the correct rhythm for chest compressions. Restart a Heart Ambassador and singer Lizzie Jones MBE will also attend.
Yorkshire Ambulance Service is launching an Ambassador Programme to equip students with the skills to teach life-saving skills to their peers. E-ACT Parkwood Academy in Sheffield is the first school to sign up to the scheme (see attached media information).
An Augmented Reality (AR) Pillow Partner filter has been developed by former University of Leeds student Sophie Hague, who lives in Sheffield, to bring CPR training to life. The overlay, viewed through a handheld mobile device, is accessible through social platforms such as Instagram. It acts as a guide for understanding the correct positioning and pace of chest compressions when using a Pillow Partner (see attached media information).
Jason added: "Thousands of people come together every Restart a Heart Day with one message - please be confident to intervene when someone has a cardiac arrest by learning CPR. We come across many patients who are alive today purely because someone started CPR when they collapsed – an essential part in the chain of survival. With 80% of out-of-hospital cardiac arrests happening in the home, what better reason to learn than equipping yourself with the skills to save a loved one.
Over 30,000 people sufferer a cardiac arrest outside of hospital in the UK every year. If it happens in front of a bystander who starts CPR immediately before the arrival of the ambulance, the patient's chances of survival double.
Currently in the UK, less than one in ten (8.6%) people survive a cardiac arrest. If we achieved the same survival rates of countries like Norway (25%), where CPR is taught in schools, an additional 100 lives could be saved each week - the equivalent of approximately 5,000 every year.
Supported by the Yorkshire Ambulance Service Charity, the event is delivered in partnership with the Resuscitation Council (UK), British Heart Foundation (BHF) and St John Ambulance.
To find out where you can learn CPR here.
* The 2022 data is provisional and will be confirmed when the Annual Epidemiology Report for Out-of-Hospital Cardiac Arrest Outcomes is published by the University of Warwick in December 2023. These figures relate to bystander CPR rates for non-witnessed and bystander-witnessed cases.
Produced by: Corporate Communications Department