Yorkshire Ambulance Service Celebrates Volunteers' Week
01 June 2023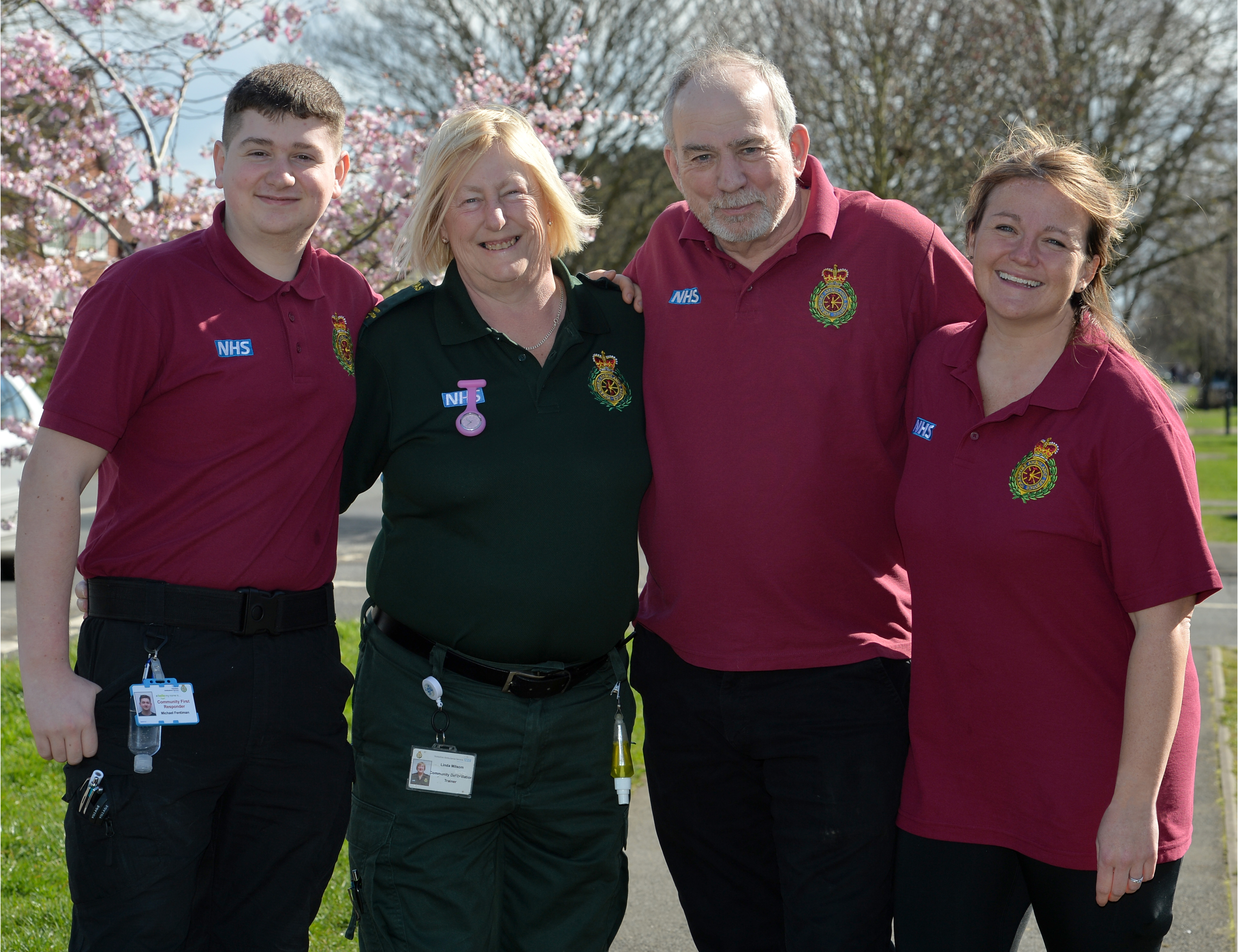 Yorkshire Ambulance Service (YAS) has almost 1,000 volunteers who selflessly give up their time to help our patients, staff and communities.
In the last year YAS volunteers have offered almost 261,500 hours and supported over 29,000 patients.
This includes:
749 Community First Responders who are trained to attend certain types of emergencies in their local communities, often providing life-saving treatment and support to patients before our ambulance crew arrives. In the last 12 months they have booked on duty for 171,117 hours, attended 15,701 incidents and helped 546 patients in cardiac arrest.
Over 180 Patient Transport Service Volunteers who ensure patients are able to access their healthcare appointments and are returned safely home. In the last 12 months they have offered almost 90,000 hours, completed over 50,000 journeys, transported over 13,500 patients and travelled almost 1,304,000 miles.
Volunteers' Week 2023 (1-7 June 2023) sees the launch of Yorkshire Ambulance Service's first Volunteer Development Framework which sets out the Trust's commitment to supporting and enhancing volunteering. This is in recognition of the significant benefits volunteering brings to patients, staff, communities and to volunteers themselves.
The Volunteer Development Framework identifies how the Trust will achieve its ambitions of having:
A robust infrastructure to enable, sustain and enhance current and future volunteering opportunities.
An organisational culture that values, encourages, promotes, and supports volunteering.
Volunteer programmes that maximise volunteer contribution and represent the diversity of our communities.
Collaborative partnerships with other health and care providers, voluntary, community and third sector organisations to further enhance its care offer through volunteering.
This work is supported by the AACE National Ambulance Volunteering Strategy.
Nick Smith, Executive Director of Operations at Yorkshire Ambulance Service, said: "I would like to offer my heartfelt gratitude to our incredible volunteers who selflessly give up their time to help others.
"The Volunteer Development Framework provides a focus for how we will develop our volunteering roles to further support the care we provide to our patients and to help people in our communities to stay healthy and access the right services when they need them. We are also looking at how we can better support, recognise and involve all those who volunteer their time to support our services. These developments acknowledge how important volunteers are to our service delivery."
More information about YAS's volunteering opportunities can be found at https://www.yas.nhs.uk/get-involved/volunteer-with-us/
ENDS

Notes to Editor:
Yorkshire Ambulance Service NHS Trust covers almost 6,000 square miles of varied terrain from isolated moors and dales to urban areas, coastline and inner cities and provides 24-hour emergency and healthcare services to a population of more than five million people. The organisation receives around 3,500 emergency and routine calls per day and employs over 7,200 staff.
The Patient Transport Service made over 706,000 journeys in 2021-22 transporting eligible patients to and from hospital and treatment centre appointments. The Trust's NHS 111 service helped around 1.7 million patients across Yorkshire and the Humber, Bassetlaw, North Lincolnshire and North East Lincolnshire during 2021-22. To find out more about YAS, please visit the website at www.yas.nhs.uk

Issued by the Yorkshire Ambulance Service Press Office
Produced by: Corporate Communications Department