Crystal Peaks shopping mall signs up to first responder training with Yorkshire Ambulance Service
25 May 2023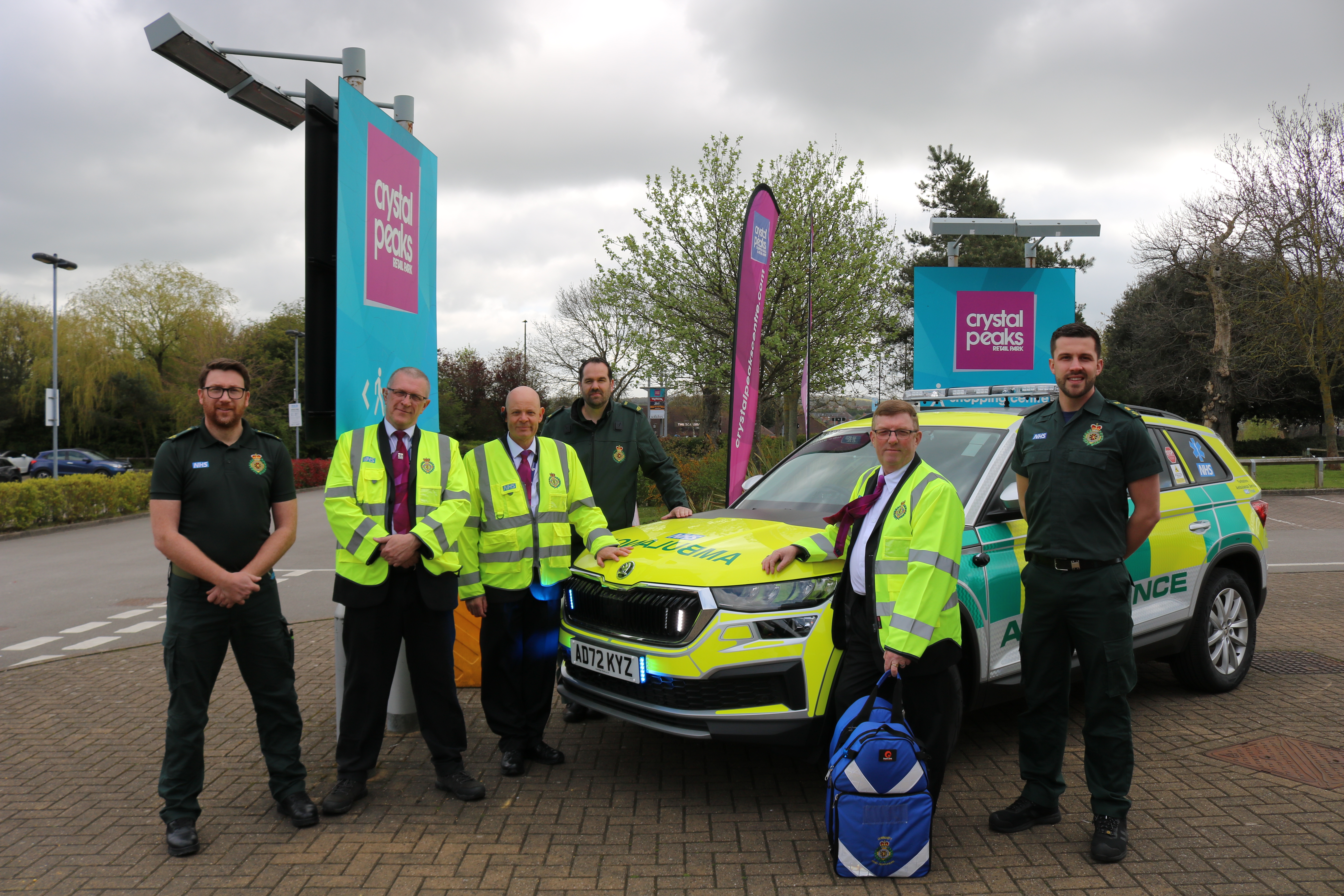 Crystal Peaks shopping mall, on the outskirts of Sheffield, has linked in with the region's ambulance service to train colleagues as Community First Responders (CFRs), so that they are able to provide vital care, comfort and reassurance in medical emergencies before an ambulance arrives on scene.  
The three-day CFR training course, run by Yorkshire Ambulance Service NHS Trust, included cardiopulmonary resuscitation (CPR), operating a defibrillator, administering oxygen and assessing a patient's condition to decide whether an ambulance is required.
Yorkshire Ambulance Service has also provided Crystal Peaks with an additional new defibrillator, so there are now two available in the centre.
Security colleagues from across Crystal Peaks have participated in the training, and the centre intends to have at least one trained CFR on site at all times.
Lee Greenwood, Centre Manager at Crystal Peaks, said:
"The most important thing for us is the safety and wellbeing of our shoppers and staff.  We already have a number of first aiders amongst our team, and this training means that we now have people with enhanced skills on site should they be needed.
"In the future, we hope that more colleagues will want to participate in the CFR training, so that we are well prepared for any emergencies that occur."
Warren Bostock, Community Defibrillation Officer with Yorkshire Ambulance Service, said:
"We're always delighted to train volunteers in life-saving skills, and we are very pleased to be working with Crystal Peaks to train their colleagues.
"CFRs contribute greatly to their communities, and visitors to Crystal Peaks and those working at the centre now have the benefit of having CFRs close by. We know that in many medical emergencies, such as a heart attack, breathing difficulties or a collapse, the first few minutes are critical. If effective treatment can be given within that initial period, lives can be saved."
ENDS   
Notes to Editors  
About Crystal Peaks
Crystal Peaks is open seven days a week throughout the year and is home to a host of top national retail brands as well as many smaller local businesses.
There are more than 100 independent stalls in the Crystal Peaks covered marketplace.
As part of the local community, Crystal Peaks facilities also include a library, medical centre and veterinary clinic.
Crystal Peaks is a leading campaigner for the environment, winning awards for its many green initiatives, including its famous rooftop colony of bees. 
Parking at Crystal Peaks is free, but the centre also has an excellent public transport infrastructure, with its own bus interchange and Supertram stop.
The centre has won many major retail industry awards.
Find out more at crystalpeakscentre.com
About Yorkshire Ambulance Service
Yorkshire Ambulance Service NHS Trust covers almost 6,000 square miles of varied terrain from isolated moors and dales to urban areas, coastline and inner cities and provides 24-hour emergency and healthcare services to a population of more than five million people. The organisation receives around average of over 3,500 emergency and routine calls per day and employs over 7,200 staff.
The Patient Transport Service made over 706,000 journeys in 2021-22 transporting eligible patients to and from hospital and treatment centre appointments. The Trust's NHS 111 service helped around 1.7 million patients across Yorkshire and the Humber, Bassetlaw, North Lincolnshire and North East Lincolnshire during 2021-22. To find out more about YAS, please visit the website at www.yas.nhs.uk
Issued by the Yorkshire Ambulance Service Press Office
Produced by: Corporate Communications Department