Chief Executive changes at Yorkshire Ambulance Service
19 May 2023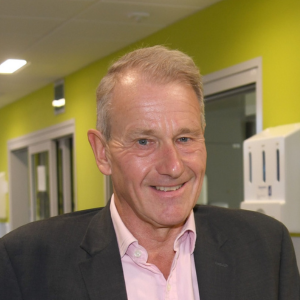 Yorkshire Ambulance Service (YAS) NHS Trust has announced that Rod Barnes, Chief Executive, is to step down at the end of May 2023.
Mr Barnes joined the Trust in October 2011, firstly as the Trust's Executive Director of Finance and Performance and Deputy Chief Executive, then as Chief Executive from 2015. He has led the Trust through a period of significant change and operational challenges, most recently leading the response to the COVID-19 pandemic.
He has overseen the development of the Trust's 999, NHS 111 and non-emergency patient transport services and has also had a leading role in the Association of Ambulance Chief Executives (AACE), leading the work on non-emergency patient transport services and more recently on developing volunteering in the ambulance service.
Martin Havenhand, Chair of Yorkshire Ambulance NHS Trust said: "On behalf of the Board, I would like to thank Rod for his excellent service, dedication and compassion for staff, volunteers and patients. Rod has led the organisation through its most challenging period in its history and we would like to wish him every success as he embarks on the next stage in his career."
Rod Barnes said: "I am incredibly proud to have served as Yorkshire Ambulance Service's Chief Executive over the last eight years. However, as the Trust embarks on a new strategy and vision, the time is now right for me to step down.

"I would like to thank staff and volunteers for their commitment, compassion and resilience. It has been a huge privilege and honour to be part of the ambulance family and to be part of an organisation that makes such a positive difference to the lives of so many patients across Yorkshire and the Humber."

Commenting on plans to replace Rod, Martin Havenhand said, "I am pleased to announce that the Peter Reading has been appointed as interim Chief Executive, joining from Northern Lincolnshire and Goole NHS Foundation Trust."
Peter Reading is an experienced healthcare chief executive, holding senior positions in a variety of NHS trusts across the country.
Peter Reading said, "I am really proud to be joining YAS and leading it through its next stage of its development. Like many parts of the NHS at the moment, YAS is seeing increasing demand for its services and looking at ways it can best respond to that.
"I'm looking forward to meeting with staff, volunteers and partners and working with them to see what we can do to offer better services to the people of Yorkshire and the Humber and to improve the working lives of the dedicated staff across the organisation."
Dr Reading will start with Yorkshire Ambulance Service on 1 June 2023.
ENDS
Notes to Editor:
Yorkshire Ambulance Service NHS Trust covers almost 6,000 square miles of varied terrain from isolated moors and dales to urban areas, coastline and inner cities and provides 24- hour emergency and healthcare services to a population of more than five million people. The organisation receives around an average of over 3,500 emergency and routine calls per day and employs over 7,200 staff.
The Patient Transport Service made over 706,000 journeys in 2021-22 transporting eligible patients to and from hospital and treatment centre appointments. The Trust's NHS 111 service helped around 1.7 million patients across Yorkshire and the Humber, Bassetlaw, North Lincolnshire and North East Lincolnshire during 2021-22. To find out more about YAS, please visit the website at www.yas.nhs.uk
Produced by: Corporate Communications Department