Clinical Apprenticeships
Our clinical apprenticeships
We offer an amazing opportunity to start your clinical career with Yorkshire Ambulance Service through our Ambulance Support Worker apprenticeship. This is an Advanced or Level 3 apprenticeship and a first step to becoming an Emergency Care Assistant - and sets you on the pathway to becoming a paramedic.
How to become a paramedic with Yorkshire Ambulance Service.
Please note: Following a review and further improvements to our career pathway, the Emergency Care Assistant is now called an Ambulance Support Worker, and the Associate Ambulance Practitioner role is now a recognised role and no longer transitional. The three core apprenticeships that make up the pathway to paramedic remain the same.
 As an ambulance support worker, you will respond to 999 emergency calls and transport individuals to and from specified treatment centres and other locations, which may be very remote settings. You will drive safely using blue lights and sirens claiming relevant exemptions from road traffic law as appropriate.
You will assist in the assessment and management of a range of medical and trauma patients working alongside clinical staff to handle and transport patients or direct patients to alternative care pathways.
You'll work as part of a double manned ambulance crew, alongside a more senior member of staff such as a paramedic or associate ambulance practitioner
You'll be required to work in a range of settings and environments, including, in some cases, uncontrollable environments assisting individuals at the scene.
Your clinical duties will vary. Often, you'll support and assist the senior clinician and, in cases where patients deteriorate, you'll provide the basic level of life-saving techniques.
This minimum 12-month apprenticeship will provide training and clinical supervision, six weeks classroom training and four weeks blue light driving training and an operational support to ensure you acquire the necessary knowledge and skills safely with all the support mechanisms that are on offer to all staff.
The career pathway at a glance for people who join us as an Emergency Care Assistant:
| Emergency Care Assistant ˃ | Ambulance practitioner ˃ | Paramedic |
| --- | --- | --- |
| Stage one: Ambulance Support Worker apprentice – 12 to 18 months with clinical support, six weeks of classroom training and four weeks driver training | Stage one: Associate ambulance practitioner – 12 to 18 months crewed with a clinician and 12 weeks of classroom training | Stage one: Newly Qualified Paramedic |
| Stage two: Emergency Care Assistant | Stage two: Ambulance practitioner | Stage two: Paramedic |
|   | Stage three: Paramedic apprentice – with two years of university study |   |
 Some of our apprentice stories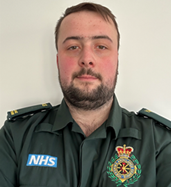 Dan Imeson, Ambulance Practitioner, completed Level 3 Ambulance Support Worker and Level 4 Associate Ambulance Practitioner apprenticeships before enrolling on a Paramedic Degree Apprenticeship Level 6 at the University of Huddersfield.
"The apprenticeship career path best suited my learning style as it was more practical based than purely academic study, although there is an element of academia. The way the learning is delivered fits perfectly around home/family life (a rarity with two small ones running around) and gives you plenty of 'on the job' exposure and learning opportunities.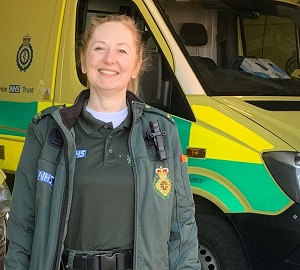 Former veterinary nurse Rachael Palmer joined us in 2018 and was one of the first people to do the Ambulance Support Worker apprenticeship at the Trust.
Emergency Care Assistant Rachael said: "It worked really well for me. I am a mum but managed to find the time to study and carry out the knowledge tasks which are assessed as part of the apprenticeship. I did the studying in my own time or if I managed to find time while I was on the station.
"I have had really good support and worked with loads of people at different stations and they have all been great. Learning on the job from skilled and experienced clinicians has been great."
Rachael said; "Earning while you are learning is very attractive and there is nothing like gaining hands-on experience. My long-term plan is to be a paramedic and this is the start of the career pathway."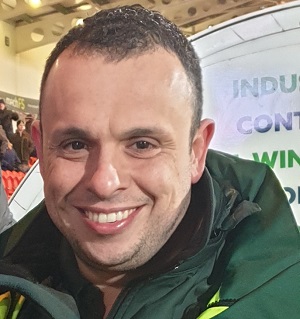 Jamie Goulding joined us in 2018 after working for a private ambulance service for around six years. As soon as he heard about the apprenticeship opportunity and the career pathway from Emergency Care Assistant to Paramedic, he was keen to get involved.
"I didn't know initially what the 13-month apprenticeship entailed but I knew I wanted to work towards being a Paramedic – it's something I have always wanted to do."
Jamie, who is married with a family, said he found the balance of work and study worked well for him and would recommend the apprenticeship to others who aspire to become a paramedic.
"I managed to get all the work submitted well within time. Working with the clinicians is a really good experience - they are very understanding and happy to talk things through, which can be particularly helpful after a difficult call."
"The training covers important areas such as mental health and dementia and helps us understand and communicate with our patients beyond the medical issues. My eyes have been opened over the last year, it's really helped me with my role."
Jamie, a keen football fan, is now also part of our events team, which provide medical cover for sporting events and festivals. This gave him the chance to meet his sporting hero, ex England international and Arsenal defender Sol Campbell, while he was covering a Doncaster Rovers game.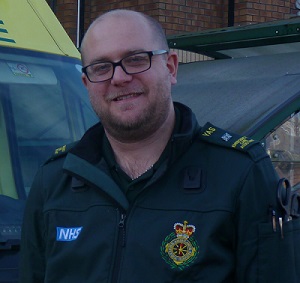 Ashley Bates remembers wanting to be a paramedic as a child and in 2019 he joined Yorkshire Ambulance Service and started to make his dream a reality.
For 13 years he was an industrial engraver, managing the business for the owner, and said he spent many years looking to see if there were opportunities to join us.
He said: "I was at work one day glancing through the jobs and I saw the Emergency Care Assistant role. I thought if I do not try for it I will be really annoyed.
"I was part of the first group to do the apprenticeship. You do need to dedicate yourself to it but if you follow a structure you can't go wrong.
"I am dedicated to being a paramedic. Don't join if you want a 9 to 5 job but I absolutely love it – it's a way of life."
The next step for Ashley and others on the paramedic career pathway is the Associate Ambulance Practitioner apprenticeship.
Lauren Horsman, an Emergency Medical Technician 1 (EMT 1) at YAS, reflects on her place on the Apprentice Ambulance Practitioner (AAP) course.

"I started my career in the ambulance service in 2011 as an Apprentice on the Patient Transport Service (PTS) when I was 19. I had no experience with dealing with patients prior to this as I had come from college after completing a Level 3 Diploma in Health and Social Care. The apprenticeship with PTS gave me a lot of experience with patients such as communication, driving and also experience in the highs and lows of people's lives. I thoroughly enjoyed my year long apprenticeship with PTS and was successful in gaining a full-time role, progressing from Band 2 to Band 3. The apprenticeship helped me with my job role, enabling me to learn a wide range of different skills within the ambulance service and I knew that this was the right career path for me.
"After another year's experience on PTS, the opportunity came for me to apply for the Emergency Care Assistant role. This role seemed quite scary at first as although I had gained a bit of experience in emergency situations in my role on PTS, I knew it would be slightly different. I gained further responsibility, trained to drive on Blue Lights and gained more knowledge on emergency situations. This training provided me with everything I needed to complete my job role to the best of my ability.
"I was an ECA for four years and then finally felt confident to progress to the role as an EMT 1. This role gave me further responsibilities, for example, I could give more medications than I could as an ECA. This only solidified my desire to progress and eventually become a paramedic.
"After three years as an EMT 1, the role of Associate Ambulance Practitioner (AAP) came out. This is a further 13-month apprenticeship to which I am currently halfway through the clinical course for. It is a progressive role to eventually become a paramedic which will then involve me attending university for two years to become a qualified paramedic.
"I feel that the apprenticeships route and gradually working my way up through the ambulance service has helped hugely with my confidence in the emergency setting. I have learned a wide range of knowledge and skills which are invaluable. Something as small as being able to communicate with someone not in my age bracket (being 19 and speaking to a 90-year-old) has helped me become the person I am today.
"Apprenticeships are hard work but also highly enjoyable. I get to meet people from different areas of YAS and learn different things from tutors who have been around for a much longer time than I have. They have a wide range of knowledge which is being passed down to myself and others. Eventually, I hope to be able to pass down my knowledge gained through my experiences to others".
Experiences of students
In September 2020 the first paramedic apprenticeship courses started at the University of Huddersfield and Teesside University.
Despite having to work during the COVID-19 pandemic, these students completed a conversion course with the University of Cumbria to become associate ambulance practitioners (AAPs) and finished the first year of their Paramedic degree, leaving them two years left to complete at university. This course develops the apprentices into practicing paramedics and it is a really exciting time at YAS and for our apprentices embarking on a new venture of their career pathway.

Here are some comments from some of the students:
"I'm really enjoying the Paramedic Apprenticeship programme. It's filling in a lot of blanks - I'm learning about why we do things the way we do which is really helpful in understanding the big picture. The course is great and the staff at Huddersfield are very knowledgeable, dedicated and supportive - we couldn't ask for better. It's a big step for all of us but with the online learning resources and guidance available we're well set up." Anonymous
"As I'm starting out on a new phase of my career with YAS as a Degree Apprentice Paramedic, I've been given an opportunity to reflect on where we are at. This is a new route to becoming a paramedic and we are among the first to have this development opportunity. The gateway to this was the AAP programme and experience. Apprenticeships themselves are a well established way of passing on skills and knowledge. I started my working life as an apprentice and have confidence in the tried and tested partnership basis of them. These are strange times but the team at the universities are doing an amazing job of adapting the delivery of lectures to keep the programme running on schedule. Nearly a month in and I'm really enjoying the experience of learning new skills and enhancing my practice as a clinician. It is demanding but also very rewarding." Steve
"I have been working for YAS for many years now and have worked my way up through the ranks. I am excited to finally be a student paramedic and I am honoured to be on the first cohort on the paramedic apprentice programme. I'm looking forward to grabbing this opportunity with both hands." Karen
"Gaining a place on the first degree apprenticeship paramedic course at the University of Huddersfield is truly exciting and nerve racking at the same time. The urge to learn and continually develop to further the patient experience along with my own knowledge and skills feels very rewarding and something I will enjoy. I'm very new to academia and hopefully I will learn to enjoy this too with the help and support of the great tutors and staff we have met during the first few weeks of our apprenticeship at Huddersfield." Sarah
Entry requirements for Ambulance Support Worker apprenticeship
You will need to be 18 or over.
You'll usually need five GCSEs at grades 9 to 4 (A* to C), or equivalent, including English and maths, for an advanced apprenticeship.
You will need a full driving licence with C1 category.
You will require enhanced DBS (Disclosure Barring Service) clearance - vulnerable groups of people need to be protected and DBS checks assist in ensuring that the most suitable people are appointed to roles working with these vulnerable groups.
More information
Visit: You can find out more at the Institute for Apprenticeships and Technical Education.
Next steps:
Look to see if there are any current apprenticeship vacancies on our vacancies page.
If you have any further questions please email yas.apprenticeships@nhs.net