Matondo Manzeninga, Paramedic Team Leader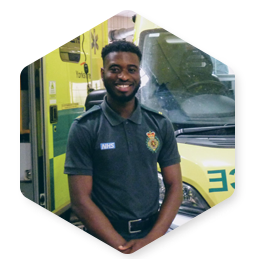 Matondo, from Leeds, knew he wanted to be a paramedic from just 15-years-old. He studied Paramedic Science at Greenwich University where he did a placement with London Ambulance Service.
Matondo said his time in London was a great experience, but he wanted to return home to Yorkshire. So, after graduating in 2017 he returned to Leeds and began working for Yorkshire Ambulance Service (YAS).
"I love every minute of the job. Every day, every incident and every patient is different and that's great. The job tests me and pushes me to think on the spot and I get a real buzz from that. I always make sure patients have all the help and support they need and love going the extra mile for them. When we receive thanks from our patients that's a bonus. It isn't why we do it but it does make a real difference to us."
"As a team leader I am responsible for supporting and managing a group of frontline operational colleagues. This means I need to be proactive, work effectively as part of the team and provide clinical supervision to all staff. I attend different kinds of incidents as a National Ambulance Resilience Unit (NARU) qualified operational commander, managing scenes such as a major incidents and critical incidents as well as providing staff welfare."
Matondo might have achieved his childhood dream, but he is still keen to advance and develop his skills. His next aim is to achieve a Level 3 Certificate in Assessing Vocational Achievement (CAVA), which will qualify him to assess learners' competency in the workplace and their vocational knowledge in learning environments.