Matondo Manzeninga, Paramedic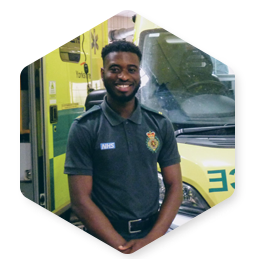 Matondo, from Leeds, has known he wanted to be a Paramedic since he was just fifteen years old. He studied Paramedic Science at Greenwich University where he undertook a placement with London Ambulance Service (LAS). Matondo said his time at LAS was a great experience but he wanted to return home to Yorkshire. So, after graduating in 2017 he returned to Leeds and began working for Yorkshire Ambulance Service (YAS).
Matondo has certainly not regretted his decision. He said "I love every minute of the job. Every day, every incident and every patient is different and that's great. The job tests me and pushes me to think on the spot and I get a real buzz from that."
Patient care is always at the forefront of Matondo's mind. "I always make sure patients have all the help and support they need and love going the extra mile for them. When we receive thanks from our patients that's a bonus. It isn't why we do it but it does make a real difference to us."
During his time at YAS, Matondo has felt very welcome and supported. Talking about his clinical supervisor he said, "It helps to know there is a friend at the end of the phone to provide support and advice should I need it."
Having achieved his childhood dream of becoming a Paramedic hasn't slowed Matondo's ambition. He is currently undertaking a mentoring course at Bradford University so that he can continue to learn and excel in his role.