Helen Smith, Dispatcher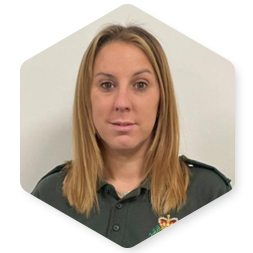 Dispatcher Helen has worked for Yorkshire Ambulance Service since 2008. Her role primarily involves dispatching ambulances to emergency calls, but also to non-emergency calls.
She must use her judgement and training to review jobs and dispatch the most appropriate resource. This often involves diverting ambulances from less urgent calls so she must trust her experience and prioritise the most poorly patients. Additionally, Helen often works on the dispatch desk for the Yorkshire Air Ambulance and must decide which incidents to send the helicopters to.
"I wanted to make a difference to people's lives. I briefly considered joining the Police, but I've never regretted choosing the ambulance service. The best part is that I can see instantly that my work is helping people."
Helen is one of our most enthusiastic members of staff and is always getting involved in extra YAS activities.  She is the coordinator for the annual Restart a Heart Day and often organises fundraisers.
Helen says "I love being a part of the YAS family! That is honestly what it feels like – we all work hard and do long hours, and everybody just wants to do their best to help patients. We are all part of a vital chain and that feels great!"