Simon Froggatt, Advanced Paramedic Urgent Care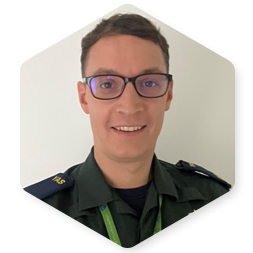 Simon joined YAS in 2010 and has been here ever since, originally growing up in Nottingham. He considers himself an adopted Yorkshireman and loves everything the region has to offer.
"I have held various roles from Paramedic to Emergency Care Practitioner and I am now an Advanced Paramedic in Urgent Care. The biggest part of my role is to strengthen the local clinical leadership structure, supporting the development of Specialist Paramedics in Urgent Care through their additional education and training programmes.
"The role is varied and interesting and it allows me to undertake a mixture of activities. I get to understand the real problems and challenges by listening and engaging with our clinicians, patients and communities. I can then use this to inform and develop policies and pathways which directly impact on improving patient care.
"I am a passionate clinician and still enjoy treating and helping our patients and communities in Yorkshire. The Trust is really looking to embed specialist and advanced practice within the organisation, aligning our training and education to national frameworks and ensuring we have parity with other healthcare professions in specialist and advanced practice. It is a really exciting time to join us!"