Brass band set to strike a chord with fundraising concert
28 April 2022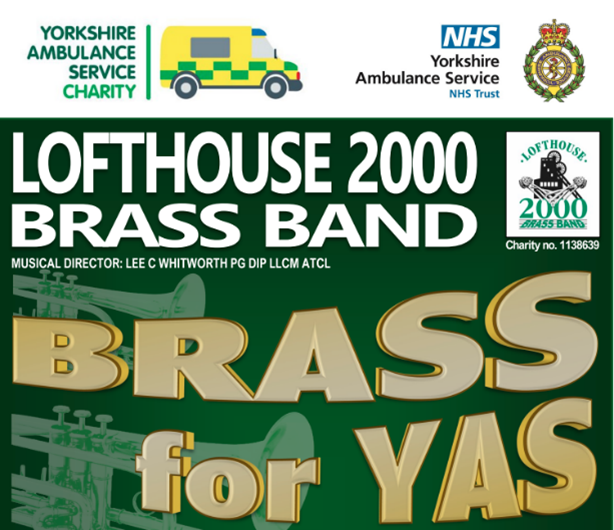 Lofthouse 2000 Brass Band will hit the stage in Wakefield on Saturday 21 May to raise money for the band and Yorkshire Ambulance Service (YAS) Charity.
'Brass for YAS' will feature a range of genres including film music, swing music, rock music and more, as well as some raffle prizes from local businesses such as Ossett Brewery, Ma B's Kitchen & Bistro and Yorkshire Tea.
The band's musical director, Lee Whitworth, is a Community Defibrillation Trainer with YAS, so he sees first-hand how the charity's work helps to save lives across Yorkshire.
Lee said: "I could write a plethora of reasons why we want to support the YAS Charity. Both I and one of our front-row cornet players work for the Trust, and this concert is a great way for the local community to come together to support both their ambulance service and their local brass band."
Ian Savage, YAS Charity Manager, said: "We would like to say a huge thank you to Lee and Lofthouse 2000 Brass Band for organising this fundraising event, it should be a brilliant night all round. The YAS Charity supports the colleagues and volunteers of the ambulance service when they are in need, but also funds life-saving community initiatives as well, and so the money raised will be put to very good use indeed."
The event will be held at St Austin's Theatre at 19.30. Tickets can be purchased by emailing the band at ticketslofthouse2000@gmail.com.
The YAS Charity supports the work of YAS by funding projects which go above and beyond those funded by the NHS. The charity's aim is to enable everyone to respond to a medical emergency in the appropriate way by supporting projects such as community public access defibrillators, free first aid and cardiopulmonary resuscitation (CPR) training, as well as looking after the health and wellbeing of staff.
Produced by: Corporate Communications Department