Pillow Partner CPR training aid hailed a success by British Islamic Medical Association
23 November 2022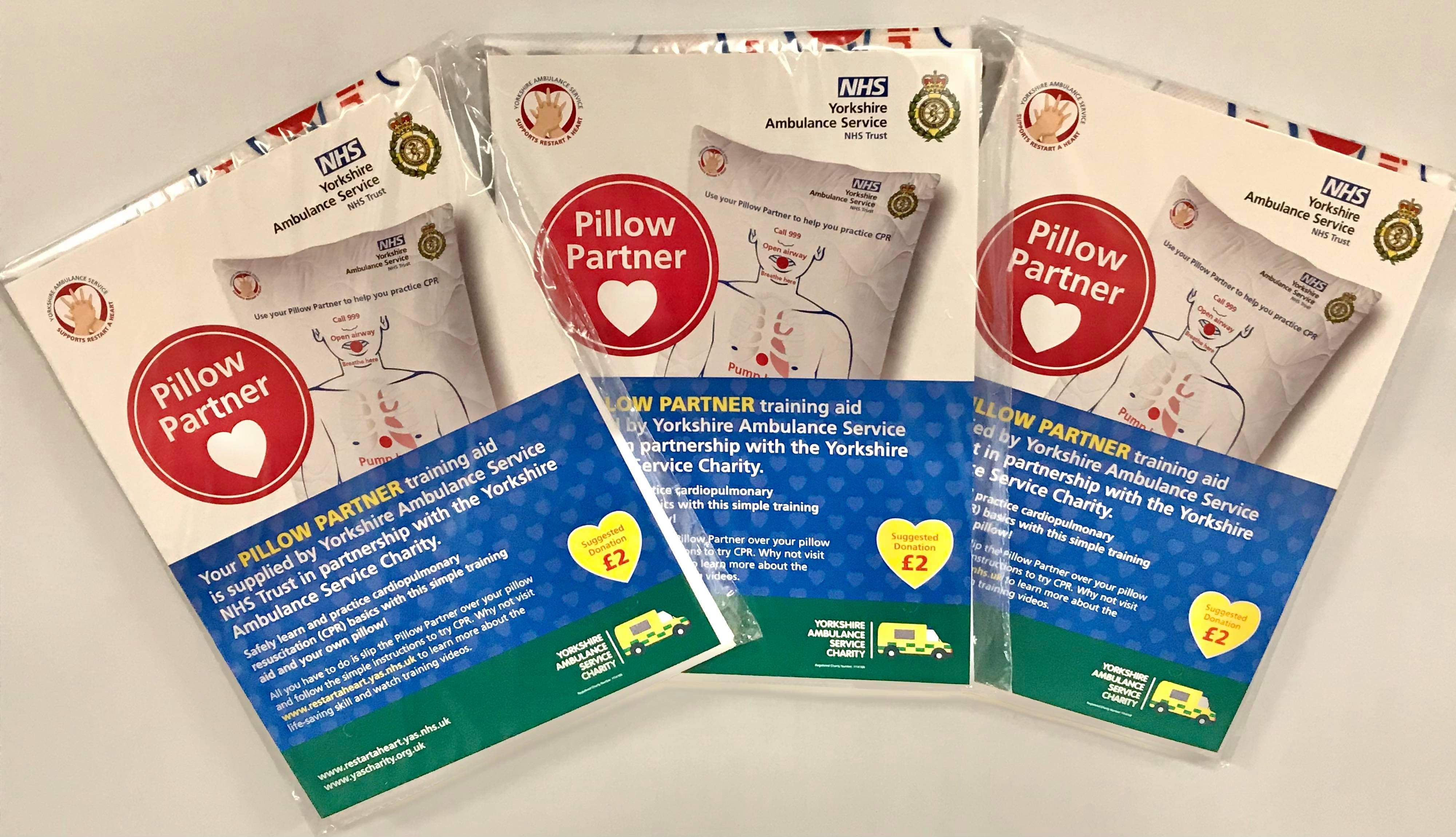 A simple training aid developed by Yorkshire Ambulance Service to teach cardiopulmonary resuscitation (CPR) has been declared a success by the British Islamic Medical Association (BIMA).
In conjunction with the Resuscitation Council UK, BIMA trialled the use of the Pillow Partner during its annual Lifesavers programme delivered through mosques in the UK and abroad.
The Pillow Partner is a simple, low-cost pillowcase with surface markings of the human thorax, as well as simplified instructions on what to do during an emergency including chest compressions, with translation into four different languages.
BIMA assessed how useful the Pillow Partner was for volunteers delivering the training through an online questionnaire. Across 81 UK mosques, 336 volunteers completed the feedback; 172 were from mosques that had trialled the Pillow Partner. Over 87% gave a usefulness ranking of 7 or more (1 = not useful, 10 = very useful). The overall response to the Pillow Partner was very positive.
Although traditional manikins provide kinaesthetic feeling and depth perception, they have limitations in terms of accessibility due to cost, availability and logistics of transportation.
The article, published in full in the Resuscitation Journal, concluded that the CPR training pillowcase can be a useful, low-cost tool for teaching bystander CPR skills. It reduces the need for more expensive manikins, with increased accessibility and acts as a visual and physical aid. Although it has some limitations, it provides a good alternative and is particularly useful in low resource or low-middle income settings.
Jason Carlyon, Community Engagement Manager for Yorkshire Ambulance Service, said: "When we developed the Pillow Partner we wanted to create a simple and inexpensive way of teaching CPR to make the training more accessible and ultimately save more lives. We are delighted that the Pillow Partners are proving their worth in terms of being an effective way to learn a vital life-saving skill."
Pillow Partners can be ordered by emailing yas.restartaheart@nhs.net. Yorkshire Ambulance Service asks for a suggested donation of £2 per pillowcase to help recover some of the costs of producing the Pillow Partners, and to cover the administration and postage. Any surplus monies raised will be used by Yorkshire Ambulance Service Charity which enhances the work of Yorkshire Ambulance Service by providing life-saving first aid training and public access defibrillators to communities.
Produced by: Corporate Communications Department