'Ordinary People Who Do Something Extraordinary' - Ambulance Service Book Launch to Mark Volunteers' Week (1-7 June 2022)
26 May 2022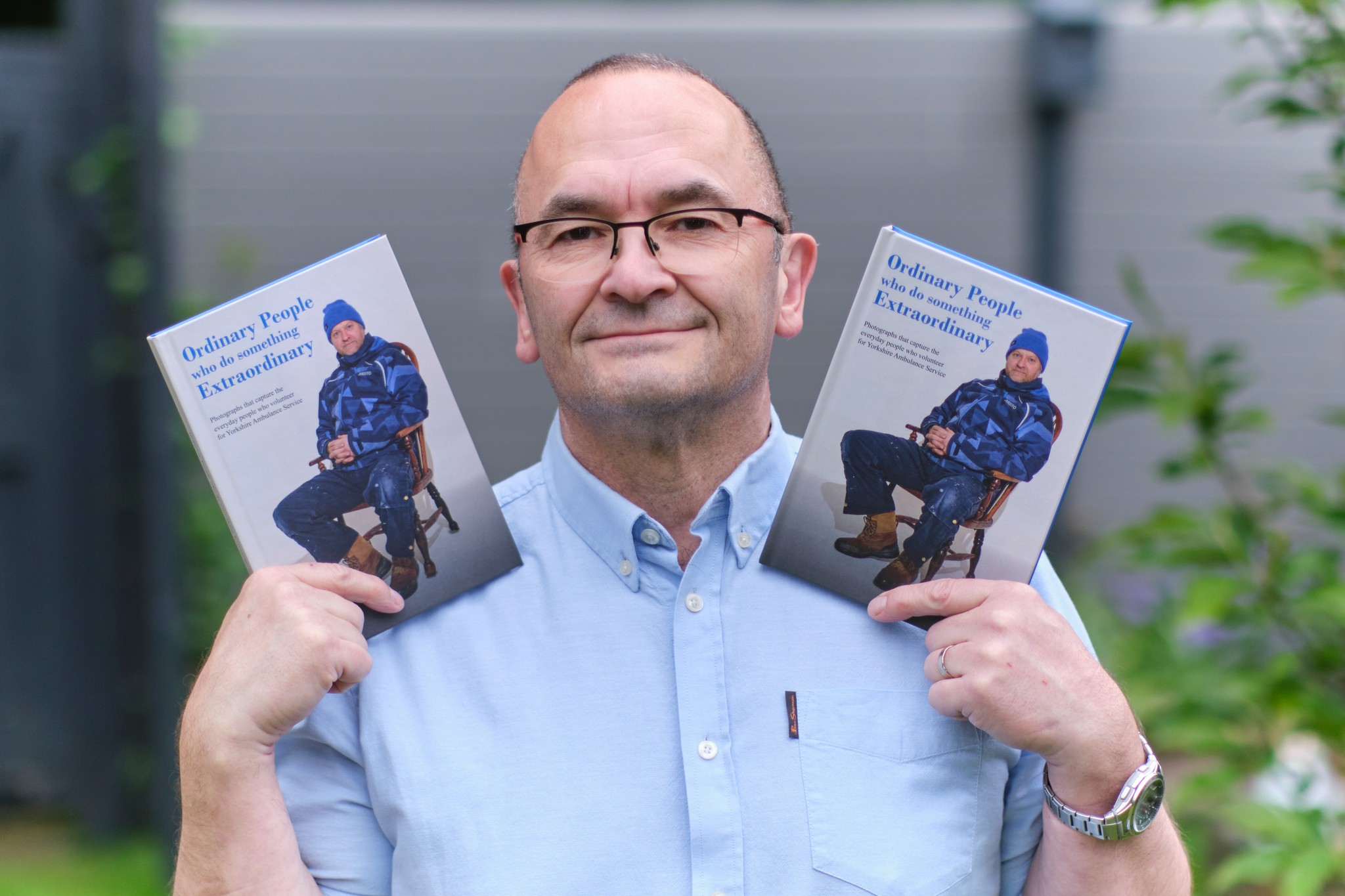 What do a DJ, paranormal investigator, student, professor, scientist, lifeguard and forensic psychiatrist have in common? They all selflessly give up their own time to help others as volunteers with Yorkshire Ambulance Service.
 
And they all star in a new book called 'Ordinary People who do something Extraordinary' which features over 100 portraits of the volunteers to give an insight into their lives away from the frontline.
 
The book is the brainchild of amateur photographer Rick Corbishley who works for Yorkshire Ambulance Service dispatching volunteer Community First Responders to emergency incidents across the region.
 
Rick is due to retire soon and wanted to leave a legacy to the hundreds of Community First Responders and Patient Transport Service (PTS) Volunteer Drivers in recognition of 'their love for mankind that transcends the selfishness we see far too often in this world'.
 
"Our volunteers are an inspirational group of people from all walks of life with one thing in common - they do something extraordinary. Every time they book on duty, they put themselves on the frontline not knowing what they will face. They don't get paid, they do it because they can and they want to," said Rick, who works in Wakefield.
 
"I just wanted everyone to see the human being, the character, the ordinary person who, when needed, dons a superhero cape to save a life or take someone for life-saving treatment. They may not be an actual superhero, but when you experience a loved one in cardiac arrest being given life-saving cardiopulmonary resuscitation by one of these special people, who would say they are not superheroes?"
 
The book has been launched to mark Volunteers' Week (1-7 June) and highlight the role of Yorkshire Ambulance Service's band of almost 1,300 volunteers who work as Community First Responders* and Patient Transport Service Volunteer Drivers**, many of whom had additional training during the COVID-19 pandemic to carry out alternative roles.
The Yorkshire Ambulance Service Charity has secured £434,000 from NHS Charities Together to further develop the roles of our volunteers. This includes training and equipment (including response cars and lifting kits) to enable Community First Responders to attend different types of incidents, with a particular focus on patients who have fallen. This frees up ambulances so they can attend more serious calls, ultimately helping to save more lives. 
Kath Lavery, Chair of Yorkshire Ambulance Service, said: "The kindness and presence of our volunteers provides much-needed comfort during difficult situations. They are enthusiastic, compassionate, flexible, resilient and motivated and it's an absolute privilege to work alongside them. This book is a wonderful tribute to our dedicated team of volunteers and gives us a great insight into their lives away from the frontline."
The book is available for a suggested donation of £10 to cover the cost of printing. To request a copy, visit https://www.justgiving.com/fundraising/something-extraordinary. Any additional monies raised will be donated to the Yorkshire Ambulance Service Charity which funds life-saving community initiatives and supports ambulance staff and volunteers when they are in need.
To find out more about the Trust's volunteering opportunities, visit the Yorkshire Ambulance Service website.
Volunteer Stories
Allison Green
Community First Responder – Beverley, East Yorkshire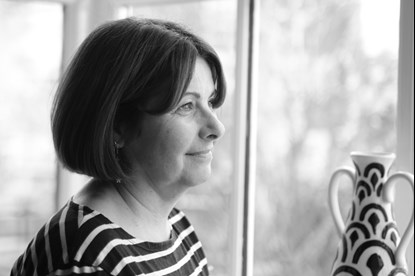 Professor Allison Green, who became deaf at the age of 11 due to meningitis and received a cochlear implant when she was 24, has been a Community First Responder with Yorkshire Ambulance Service for the last eight years.
The phone used to alert her to emergencies is linked to specialist equipment which is connected to a vibrating pad under her pillow. This tells her
the phone is going off while she is asleep and not wearing the external processor for her implant. She also has a Bluetooth phone connector that is clipped to her uniform and can stream voices from the work phone straight into the internal implant with no background noise and crystal-clear speech.
She said: "The pandemic created interesting challenges (face masks) as I do need to lip read. I sourced an app that gives me speech to text and could use this to understand crews or family wearing masks. Luckily, patients were mask free.
"I am appreciative of the progressiveness of Yorkshire Ambulance Service which does not see my disability as a hindrance to being a CFR; this has been instrumental in hundreds of Beverley residents being helped at their time of need.
"I love communicating with my patients, hearing their amazing stories and helping to ease their anxieties about themselves or their loved ones. I think communication (and a big smile) are key attributes of being a CFR."
Allison has a BSc in Immunology from Glasgow University and a PhD in Virology, Immunology and Vaccination from University of St Andrews. She was recruited to the Yale School of Medicine in America for Postdoctoral training in auto-immunities, particularly type 1 diabetes, followed by Cambridge University to set up her own research team. She was promoted to Professor at York University (Hull York Medical School) where she continues to teach immunology to biomedical science and medical students and runs a research team in type 1 diabetes.
John Speak MBE
Community First Responder - Market Weighton, East Yorkshire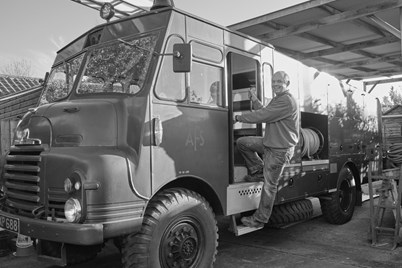 Third generation retained firefighter John Speak became a Community First Responder through Humberside Fire and Rescue Service eight years ago.
The partnership scheme deploys part-time firefighters, and members of the local community, to emergencies so life-saving treatment can be administered in the critical moments before the arrival of an ambulance.
He said: "I enjoy being a CFR because you have an opportunity to make a difference. Sometimes just the simple act of reassurance when you arrive on scene can make the situation much better than it was before you walked through the door."
John started his working life building refrigerated vehicles and car transporters for Formula 1. He is now a self-employed plumber/builder.
John has been a scout leader in Market Weighton for the last 20 years and is a church bell ringer and member of the Fire Service Guild of Bell Ringers; he rings at the National Firefighter Memorial Service in London every September.
John also restores old fire service vehicles and is pictured with his Green Goddess, which are the oldest working fire engines in the western world.
In 2011, John was awarded an MBE in the Queen's Birthday Honours List in recognition of his services to local government.
Emmet Larkin 
Patient Transport Service Volunteer Driver – York, North Yorkshire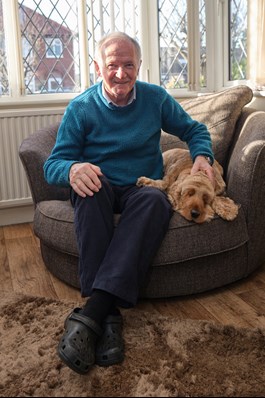 Retired Forensic Psychiatrist Emmet Larkin heard about the role of volunteer drivers while he was visiting a friend in York Hospital.
So, when the COVID-19 pandemic began, he applied to join the team of Patient Transport Service Volunteer Drivers to help at a time the NHS was facing unprecedented challenges.
He said: "I worked in the NHS for 34 years and my son and daughter both work in the NHS so I was very aware of the pressures brought by the pandemic, and I thought I should do something useful and decided to help as a Volunteer Driver.
"I have been volunteering for almost 16 months now. I enjoy meeting patients from diverse backgrounds and ensuring they get to their hospital appointments on time."
Emmet qualified as a doctor in Ireland in 1973 and moved to Nottinghamshire in 1978 where he specialised in psychiatry. He spent the majority of his career working in high security as a Consultant Forensic Psychiatrist at Rampton Hospital including six years as Medical Director.
Latterly he worked at Stockton Hall in York as a Consultant Forensic Psychiatrist until his retirement in 2012.
Mark Nelson
Community First Responder – York, North Yorkshire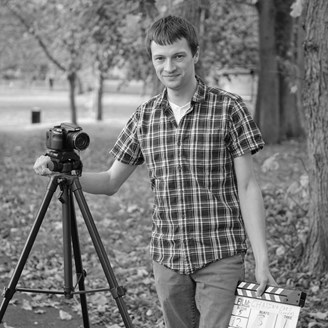 Bus driver Mark Nelson was inspired to become a Community First Responder after he saved the life of one of his passengers.
The father-of-one recalled: "I was doing my final check of the bus before going back to the depot at the end of my shift and noticed a passenger who I initially thought was asleep. I soon realised he wasn't breathing so I dragged him onto the floor, called 999 and started CPR. I believe the gentleman survived and that was what inspired me to become a CFR."
The 30-year-old became a CFR in Leeds in 2015 before joining the York scheme in 2019 where he also responds to patients who have fallen but are uninjured and just need help to get off the floor.
"I love helping people in their hour of need and knowing that I can make a difference; it's about giving something back," said Mark, whose ambition is to become an Emergency Care Assistant with Yorkshire Ambulance Service.
In addition to his work as a CFR, Mark has starred as an extra on programmes including Coronation Street, Emmerdale, Shameless, Hollyoaks and Waterloo Road, does agency television crewing work and is also a paranormal investigator to detect the presence of spirits with an organisation based in Leeds.
Lynne Speight
Community First Responder – Cleckheaton, West Yorkshire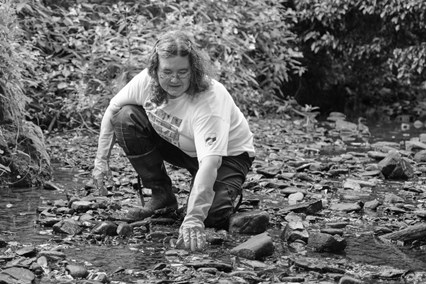 When Lynne Speight stepped down from being a women's football captain/goalkeeper in Leeds, she was looking for something worthwhile to fill her spare time and that's when she became a Community First Responder.
"I'd been on a first aid at work course with St John Ambulance and there was a leaflet about Community First Responders, and it looked like an interesting and worthwhile thing to do," said Lynne.
That was 11 years ago, and she hasn't looked back.
"It's such a rewarding role which has changed my outlook on life and has given me a much better understanding and appreciation of the challenges people face; it's quite humbling really," said Lynne, who works as a senior freshwater scientist for an environmental consultancy in Stockport.
When Lynne was a student, she volunteered with the British Trust for Conservation Volunteers and helped to build a stone footpath up to Malham Cove. She is also a first aider with St John Ambulance and a COVID-19 vaccinator.
Haroon Hussain
Community First Responder - Keighley, West Yorkshire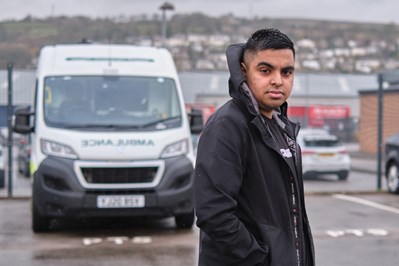 Nineteen-year-old student Haroon Hussain is one of our youngest Community First Responders.
Haroon is studying a Level 3 in Public Services at Leeds City College and heard about the volunteer scheme while completing a 12-week course focusing on the work of the emergency services.
Since completing his CFR training in September 2021, Haroon has made himself available an average of 40 hours every week and manages to fit it in around his college course.
Haroon, who lives in Keighley, said: "Since I was young, my ambition has always been to join the police force but since becoming a CFR, I have enjoyed it so much, I am now considering a career in the ambulance service too.
"I enjoy having to think on my feet. You never know what each shift will bring, whether it's going to be something very straightforward like lifting an elderly person who has fallen off the floor, or something more serious like a cardiac arrest, but I like being able to make a difference."
John Adler
Patient Transport Service Volunteer Driver – Sheffield, South Yorkshire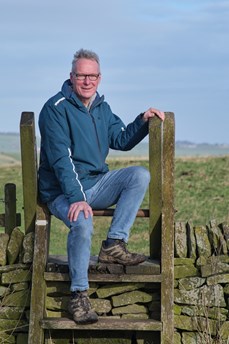 After a 35-year career in senior hospital management, John Adler was keen to maintain links with the NHS.
John, who was Chief Executive of Sheffield Children's Hospital between 1998 and 2002, said: "I was familiar with the PTS volunteer role from working in hospitals and I knew it was valuable service for those who needed to attend outpatient appointments. I wanted to stay with the NHS and liked the idea of being able to interact with patients and hopefully improve their experience.
"I have been a PTS volunteer for almost a year now. I do a day a week and I'm always busy. It's well organised with all jobs and patient information issued via an app. It's a pleasure to meet so many different people to hear about their interesting lives. It amazes me how positive they remain despite the challenges they face."
John, who is married with two children, also volunteers with the Peak and Northern Footpaths Society, regularly walking footpaths checking for problems and reporting them to the responsible local authority and is a volunteer lockkeeper on the Sheffield and Tinsley Canal.
Maria Chappell
Community First Responder - Doncaster, South Yorkshire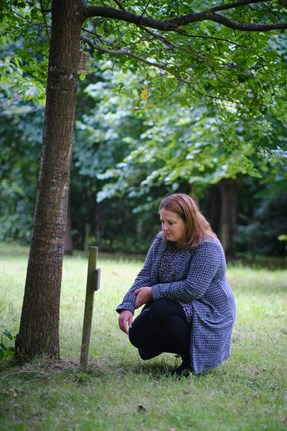 As a single mum-of-two, it was vital that Maria Chappell had the support of her teenage sons when she decided to become a Community First Responder in 2015.
"I sat them both down and explained what it involved, and they said if it was something I was passionate about, I must go for it and they supported me 100%," said Maria, who lives in Thorne and works as a supply teacher. "They always check on me when I get back from a job and offer to make me a cuppa!
"I live in a rural area and know the value of being able to arrive at an emergency in those vital first few minutes to offer help, reassurance, compassion and empathy; that's my inspiration.
"I know that at any point if you get a difficult job, you have fantastic support from YAS staff and fellow volunteers. We are a YAS family and have each other's backs - you can't put a price on that."
Maria, who is studying for a BA (Hons) in Education, has an ambition to establish a first aid training company and use the skills of her bi-lingual family (she speaks Turkish, and her sons speak Mandarin and German) to reach an international audience.
She is also a self-proclaimed 'petrol head' and volunteers with Motorsport UK to provide support at the motor sport events that take place every year.
Produced by: Corporate Communications Department