Daily mileage of a Beverley ambulance to be conquered by eight-year-old
25 March 2022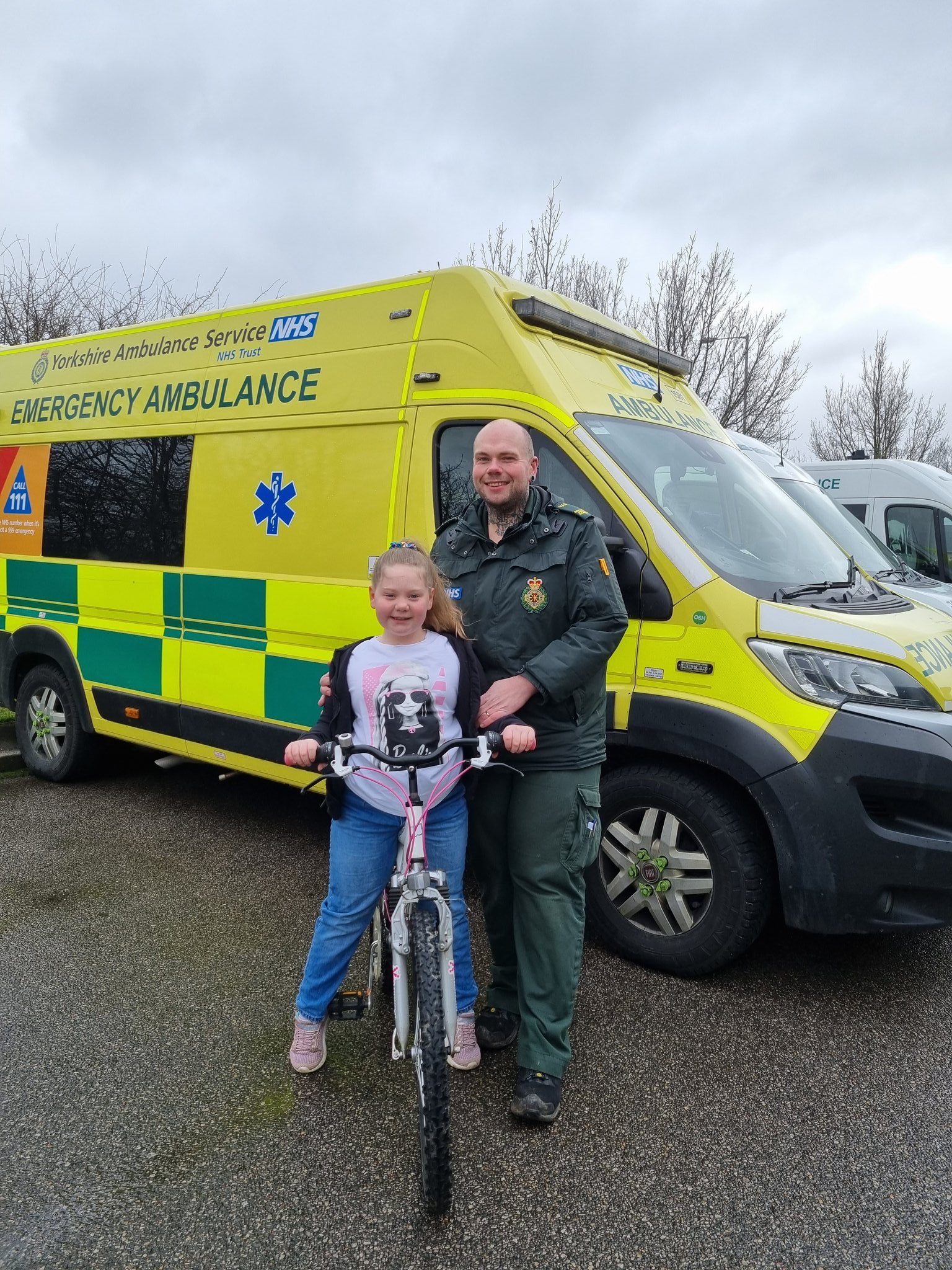 Eight-year-old Ella Berry is taking on the 'Outrun an Ambulance' challenge to raise money for the Yorkshire Ambulance Service (YAS) Charity.
Ella is aiming to cycle 63 miles, based on the mileage an ambulance covers on an average shift out of Beverley Ambulance Station, where her dad works as a student paramedic.
'Outrun an Ambulance' is a virtual challenge inviting people to conquer the mileage an ambulance covers on an average shift while responding to people in urgent need. Participants can walk, swim, scoot, hand-cycle, or ride anything that is self-propelled.
Ella decided to cycle 63 miles over three months in support of the YAS Charity as she sees first-hand the hard work and dedication that goes into saving lives.
Ella said: "I want to raise money so that more people can learn life-saving skills and more equipment is available to people.
"Daddy inspires me because he works so hard to help others who are poorly."
For her first bike ride of the challenge, Ella was joined by her dad, and together they conquered three miles. Since then, Ella has been on more outings after school and on weekends, and has now passed the ten-mile mark, with 53 more to go.
Ian Savage, YAS Charity Manager, said: "It's great to see youngsters inspired by our hard-working colleagues and we would like to pass on our grateful thanks to Ella for taking on this challenge in support of the YAS Charity. The money donated is used to support those colleagues and volunteers, but also to engage with local communities and help to save lives by part-funding community public access defibrillators. We wish Ella the best of luck in her challenge."
Ella has already accomplished her original target of £100, but any further donations will be greatly appreciated. To support Ella in this challenge, visit: https://www.justgiving.com/fundraising/ella-marie13
You can also follow Ella's journey on her Facebook page: Ella berry - Outrun an ambulance | Facebook
The YAS Charity supports the work of Yorkshire Ambulance Service by funding projects which go above and beyond those funded by the NHS. The charity's aim is to enable everyone to respond to a medical emergency in the appropriate way by supporting projects such as community public access defibrillators, free first aid and cardiopulmonary resuscitation (CPR) training, as well as looking after the health and wellbeing of staff.
Produced by: Corporate Communications Department