Estate agent staff aim high with virtual Yorkshire Three Peaks fundraising challenge
21 May 2021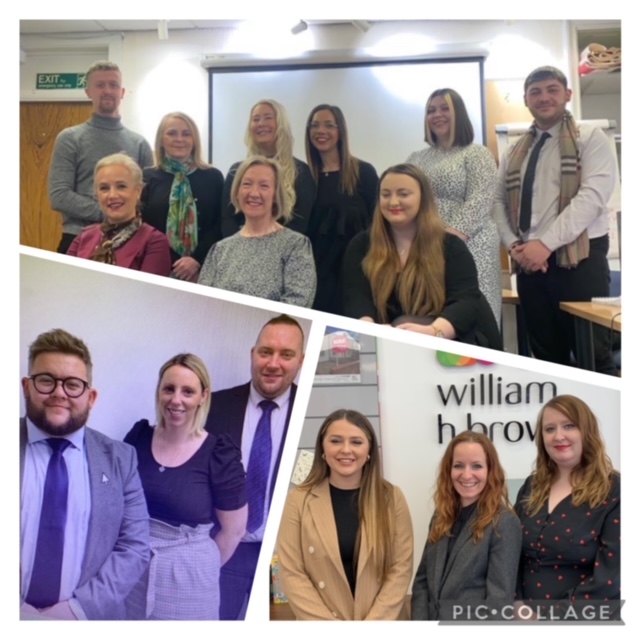 A Wakefield estate agent will be clocking up the miles by completing a virtual Yorkshire Three Peaks challenge for the Yorkshire Ambulance Service (YAS) Charity.
Throughout May the team of 14 at the Wakefield branch of William H Brown will virtually climb the three peaks that make up the challenge by walking up and down the stairs of their office.
The mountains that make up the Yorkshire Three Peaks challenge are Pen-y-Ghent, Whernside and Ingleborough in the Yorkshire Dales National Park, totalling 24 miles of walking and 1500m of ascent. The team have worked out that they will need to climb their flight of stairs 673 times to reach this total.
The idea originated from Louisa Crook, Branch Partner at William H Brown Wakefield, whose son, Joe Crook, is a student paramedic currently working as an Advanced Emergency Medical Technician for YAS at Manor Mill Resource Centre. They hope to raise £500 for the charity, but any donation large or small will be greatly appreciated.
Louisa said: "I am in awe of the selfless work these guys do day in day out, pandemic or not. The very nature of their job means that they are usually with their patients for a relatively short but incredibly intense time.
"Although they are very rarely recognised by the people they help - as quite understandably their patients in most cases are at their most stressed and vulnerable when the ambulance crews are with them - their only drive and motivation is to help as many people as possible with no thought for gratitude.
"I think we are sometimes guilty of taking this service for granted as most of us will either never have to use it or only on a very rare occasion during our lifetime - so the team and I just wanted to acknowledge the phenomenal work they do and in our own little way just say thank you."
Danielle Norman, YAS Charity Manager, said: "We are overwhelmed that Louisa and her team have taken on this virtual challenge to support the YAS Charity. As they cover all of those miles on their stairs, they will know that every pound they raise will help us go the extra mile for YAS patients and colleagues. Our Charity has been under exceptional pressure during the pandemic to support colleagues who find themselves in crisis or hardship and these funds will enable us to continue that support for those who care for the people of Yorkshire."
You can keep up to date with the team's progress via their Facebook page, which they will update regularly with photos and videos. To support the William H Brown Wakefield team in this challenge, visit https://uk.virginmoneygiving.com/williamhbrownwakefield
The YAS Charity supports the work of Yorkshire Ambulance Service by funding projects which go above and beyond those funded by the NHS. The charity's aim is to enable everyone to respond to a medical emergency in the appropriate way by supporting projects such as community public access defibrillators, free first aid and cardiopulmonary resuscitation (CPR) training, as well as looking after the health and wellbeing of staff.
Produced by: Corporate Communications Department