Potential life-savers urged to sign up for Restart a Heart Day 2021!
12 February 2021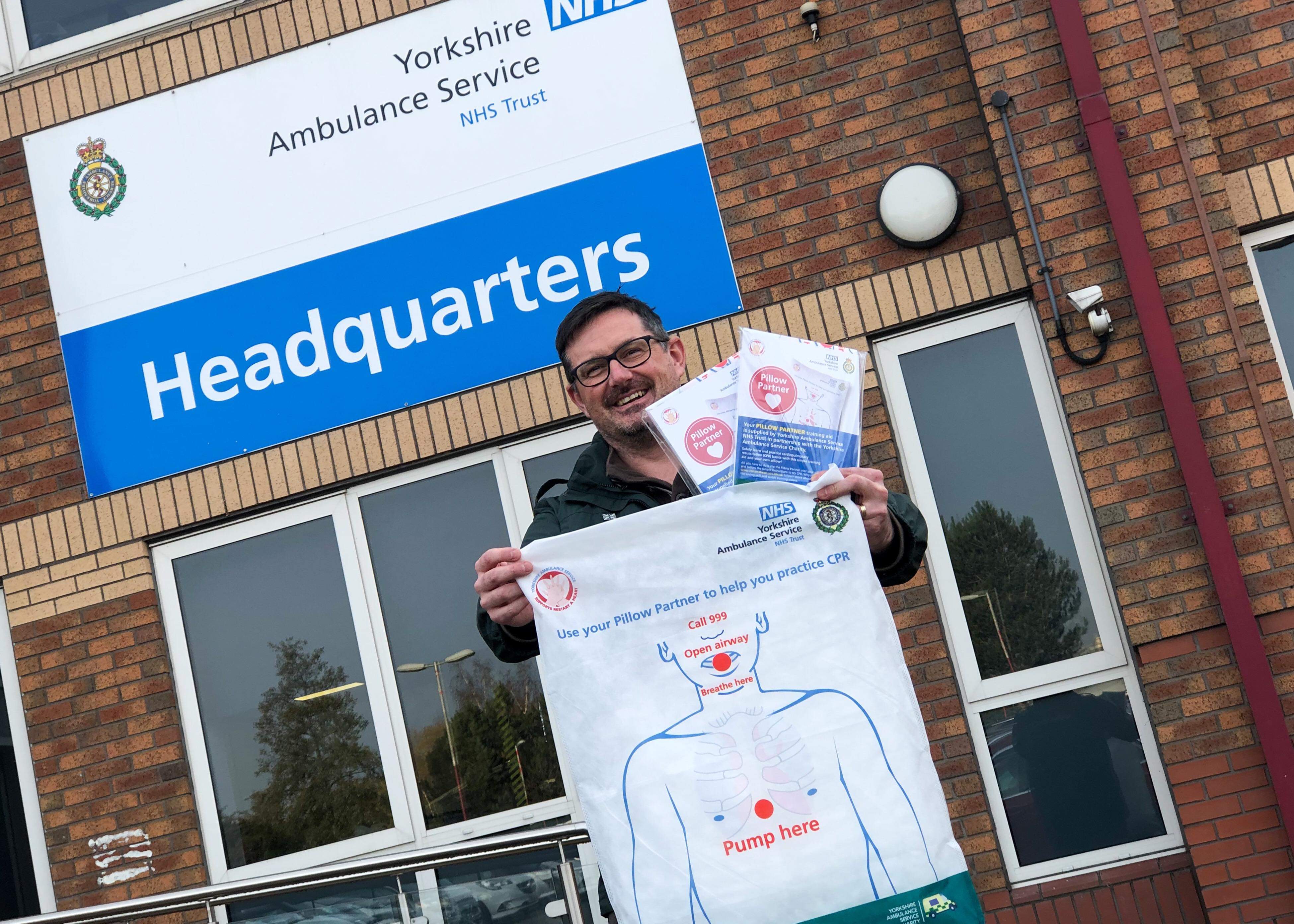 Secondary schools are being urged to sign up for a life-saving lesson from Yorkshire Ambulance Service on Restart a Heart Day 2021.
Hopes are high that an easing of COVID-19 restrictions later in the year will mean a return to face-to-face cardiopulmonary resuscitation (CPR) training on Friday 15 October and these sessions would be offered alongside online training.
To make the lesson more accessible for all, we have developed a new training aid – called a Pillow Partner – to enable those without access to manikins the chance to practise hands-only CPR on a pillow.
The pillow cases are printed with a torso and basic CPR instructions and can be used alongside our new training video. We are asking for a suggested donation of £2 per pillow case and all proceeds will go to the Yorkshire Ambulance Service Charity, which sponsors the Restart a Heart campaign. They can be ordered by emailing yas.restartaheart@nhs.net
Jason Carlyon, Community Engagement Manager for Yorkshire Ambulance Service, said: "We are hopeful that we will be able to return to Yorkshire's secondary schools this year to provide face-to-face CPR training, COVID-19 restrictions permitting, and we will also be offering online sessions for those who would prefer to learn virtually.
"We are also delighted to launch our new CPR training aid. The Pillow Partner – a pillow case that you can slip on your own pillow - is a simple, effective and inexpensive way of practising CPR. By removing the barriers of cost and availability associated with the traditional training manikins, we aim to make CPR training more accessible to all with the aim of improving cardiac arrest survival rates."
Secondary schools can register for Restart a Heart Day 2021 by completing this form before the closing date on Friday 2 April.
Over 30,000 people suffer a cardiac arrest out of hospital in the UK every year. The earlier a patient can receive CPR and a shock from a defibrillator, the greater their chance of survival.
Currently in the UK, less than one (8.6%) in ten people survive a cardiac arrest. If we achieved the same survival rates of countries like Norway (25%), where CPR is taught in schools, an additional 100 lives could be saved each week - the equivalent of approximately 5,000 every year.
Restart a Heart Day is again being organised in conjunction with the Resuscitation Council (UK), the British Heart Foundation, which provides training equipment to eligible schools free of charge as part of its Nation of Lifesavers campaign, and St John Ambulance.
For more information visit www.restartaheart.yas.nhs.uk  
Produced by: Corporate Communications Department