Superstar schoolgirl teaches life-saving CPR
12 March 2021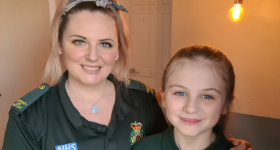 Nine-year-old Daisy Goodman is proving to be a budding life-saver by teaching cardiopulmonary resuscitation (CPR).
Mum Carly, a Longley-based Emergency Care Assistant, bought a Pillow Partner CPR training aid so her daughter could learn how to save the life of someone in cardiac arrest.
The youngster was a natural and asked her mum to film her so she could share the life-saving skill with her friends at Burton Road Primary School in Barnsley.
Carly said: "I have taught her basic first aid before but this was the first time we had practised CPR and I couldn't believe how quickly she picked it up.
"The Pillow Partner is a great idea because it means anyone can learn this skill which can really make the difference to someone's chances of survival."
The video has been shared widely on social media and Daisy hopes it will encourage others to learn CPR.
Daisy said: "I'm so happy that so many people have seen and shared my video and the comments people have left has given me the confidence if I ever did this again."
The Pillow Partner - a pillow case, printed with a torso and basic CPR instructions that you can slip on your own pillow - is a simple, effective and inexpensive way of practising CPR. They are available for a suggested donation of £2 each and  can be ordered by emailing yas.restartaheart@nhs.net
Produced by: Corporate Communications Department