Cardiac arrest survivor reunited with life-savers
14 June 2018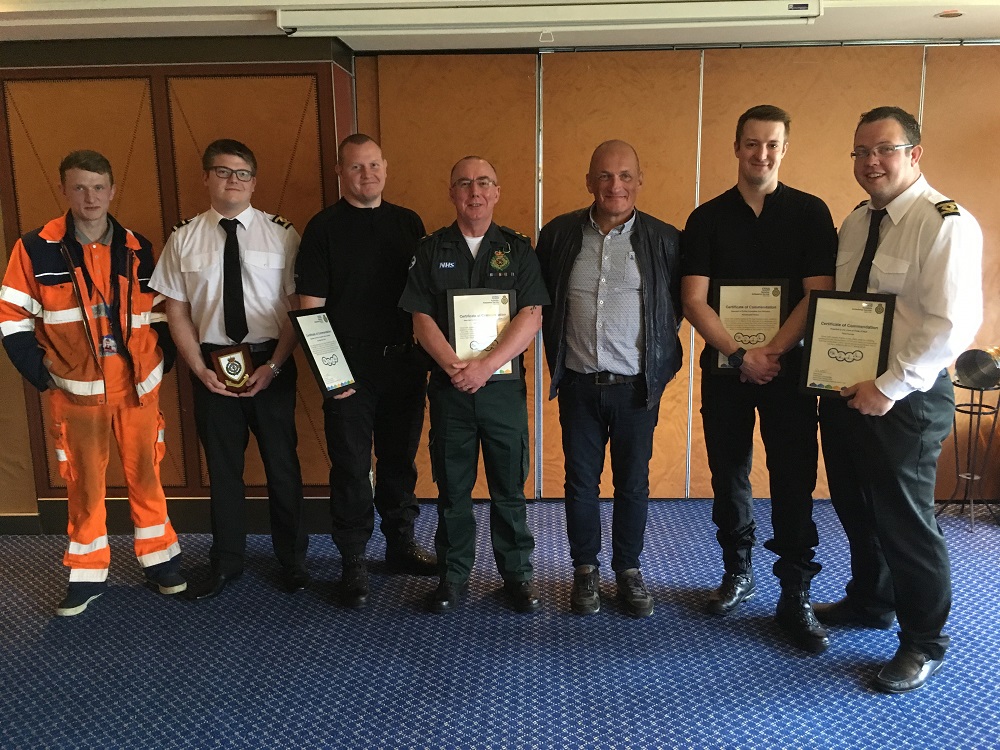 A lorry driver who suffered a cardiac arrest on board the P&O ferry Pride of Hull has personally thanked the people who saved his life.
Jaap Schilperoort, from Holland, was found slumped at the wheel of his truck as vehicles disembarked the ship at King George Dock in Hull on 21 March.
The 59-year-old was immediately given cardiopulmonary resuscitation (CPR) by members of the ferry crew and they used the ship's defibrillator to shock him several times before staff from Yorkshire Ambulance Service arrived.
Clinical Supervisor Steve Johnson, paramedic Andrew Wallace and emergency medical technicians Landa Sapele and Michael Taylor provided advanced life support, whilst police officers Dan Hermann and Steve Caulfield helped with CPR. After further shocks from a defibrillator, Jaap's heart was restarted.
He was taken to Castle Hill Hospital in Cottingham for emergency surgery and discharged nearly three weeks later.
Steve Johnson said: "All the links of the 'Chain of Survival' were in place to provide the best possible chances for Jaap to recover and return to his family. Great team work all round."
Jaap, who is a regular passenger on the Pride of Hull, travelled over from Holland with his family to be reunited with his life-savers on 13 June.
He said: "I was very pleased to see them and to say thank you. It was a bit unreal, because I can't remember a thing about what happened - it filled in some missing gaps. There were so many people involved and I feel very, very lucky."
The ferry crew, police officers and ambulance staff were presented with certificates of commendation to recognise their life-saving actions.
Paul Mudd, Divisional Commander (North and East Yorkshire) at Yorkshire Ambulance Service NHS Trust, said: "Having to save a ferry passenger's life doesn't happen every day and the crew on board the Pride of Hull, along with the police officers, did an excellent job in supporting us. Everyone involved should be very proud of their efforts - they are true heroes."
Captain Eugene Favier, from P&O Ferries, added: "Medical emergencies happen from time to time right across our company's fleet and they can be very traumatic. Crew are well-trained and the training just kicks in during an emergency.
"They would all say they were just doing their job and doing what any other crew on any other ship would have done, but I am extremely proud of the professionalism shown by all those involved."
It is not the first time that a P&O crew in Hull has helped someone suffering a cardiac arrest. In May 2016, staff saved the life of Italian passenger Alfredo Cantoni who collapsed on board the Pride of York ferry.
Produced by: Corporate Communications Department