'Miracle Man' meets ambulance heroes
07 June 2018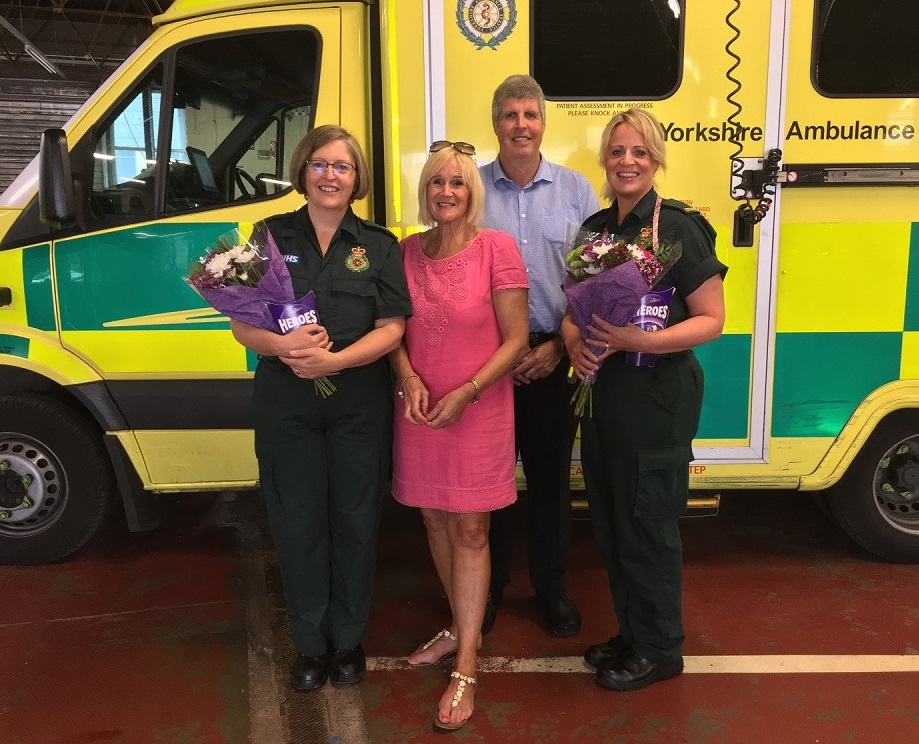 A man who suffered a cardiac arrest has personally thanked the Halifax ambulance crew who helped to save his life.
Neil Davidson, a Deputy Lieutenant of West Yorkshire, was at home when his heart stopped in the middle of the night. His quick-thinking son, Oliver, started cardiopulmonary resuscitation (CPR) and continued chest compressions until the crew arrived to take over.
Oliver, who was staying with his parents at the time, learned how to perform CPR as a 15-year-old at Rishworth School near Sowerby Bridge.
Neil, who was described as 'Miracle Man' by doctors and nurses in hospital, has visited some of his heroes at Halifax Ambulance Station. He was joined by his wife, Janice, for the emotional reunion with Clinical Supervisor Liz Cheetham and paramedic Sally Tinkler.
Neil said: "They saved my life, good and proper. Words can't describe how I feel about what they did to help me to survive and recover.
"I'm now doing a lot of work with the Resuscitation Council (UK), supporting Restart a Heart Day on 16 October, raising money for charities and also raising awareness of CPR. I'm going to campaign for every child in school to be taught this life-saving skill."
Speaking about the night when Neil's life was saved, Janice said: "The instructions from Yorkshire Ambulance Service were really good and concise. Without them on the end of that phone, I would have really struggled, so they helped me greatly."
The reunion was a very proud moment for Liz and Sally, because ambulance crews rarely find out what happens to their patients after they take them to hospital.
Liz said: "We meet people on the worst day of their life, help them as best as we can, take them to hospital and that's pretty much where it ends for us. Occasionally, we find out how people are getting on, but a lot of the time we never find out what's happened, so it's lovely that they've been in touch to let us know how well it's turned out."
Sally added: "We don't always get such a great outcome and it's lovely to see him walking, talking and being an advocate for Restart a Heart Day. He'll be saving lives by just doing that and helping other people - awareness and knowledge is key really."
Produced by: Corporate Communications Department