Hornsea Community First Responders thanked after saving patient's life
14 August 2018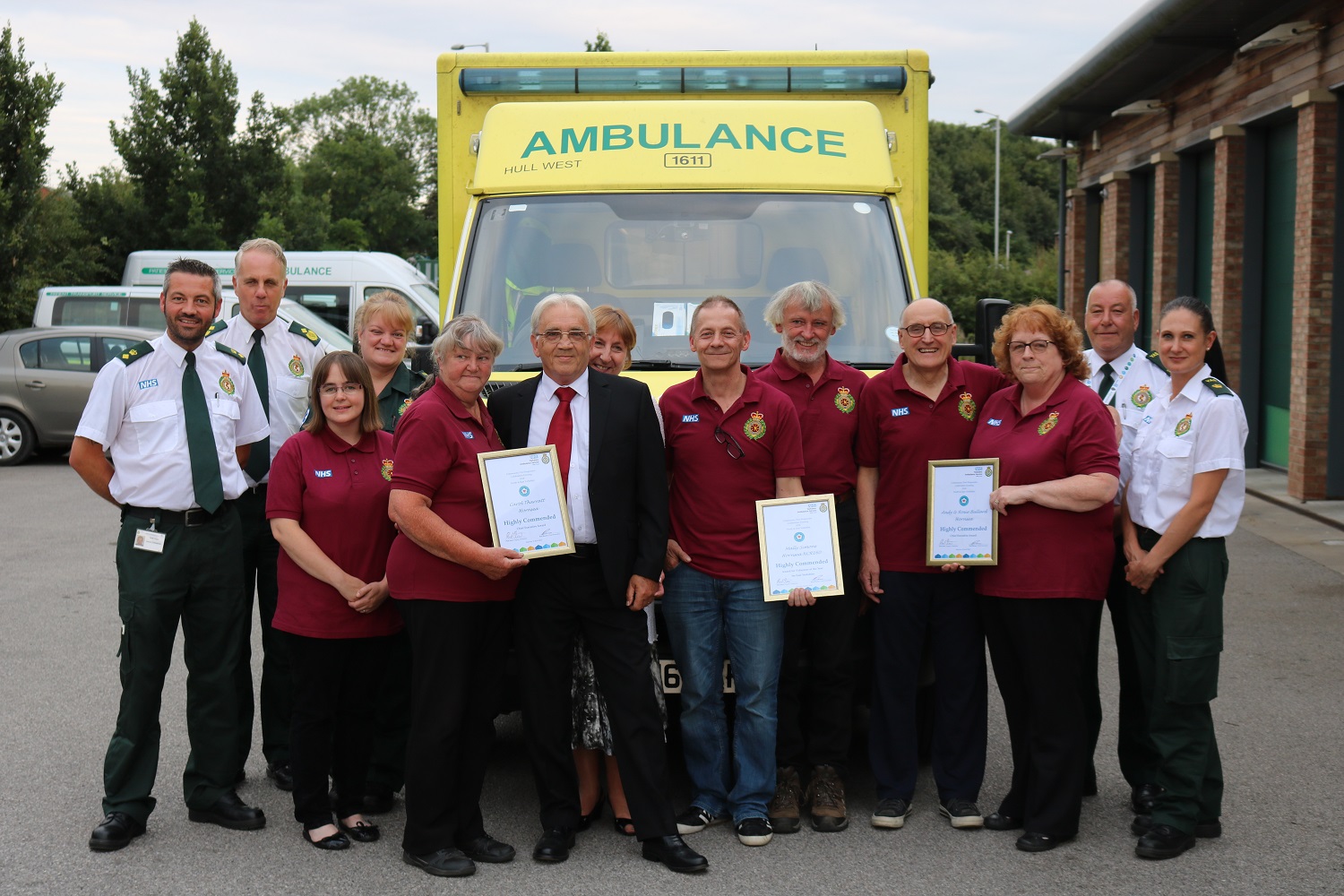 A man who suffered a cardiac arrest has personally thanked Yorkshire Ambulance Service volunteers for saving his life.
Community First Responder (CFR) Carol Tharratt was off duty when she stopped to help David Pratt after he collapsed in Hornsea on 6 March 2018. Carol asked someone to call an ambulance and then asked another bystander to alert two other CFRs who work nearby.
Andy and Rosie Bullard, who were also off duty, rushed over with a defibrillator and quickly realised that David had stopped breathing. They immediately started cardiopulmonary resuscitation (CPR) and used the defibrillator to deliver an electric shock which restarted his heart.
Carol, Andy and Rosie continued to treat David, and by the time the ambulance arrived, he had started breathing for himself. One of the paramedics who attended the incident said that the prompt actions of the CFRs undoubtedly made a difference to David's survival.
He was recently reunited with the volunteers at Beverley Ambulance Station, where they received certificates to officially recognise their efforts.
David said: "After collapsing in the street with a cardiac arrest, the quick response of the volunteer Community First Responders and their knowledge and expertise in CPR and the use of the defibrillator saved my life.
"Without these volunteers, the outcome of the incident could have been very different, for which I will be forever grateful."
Rosie Bullard, team co-ordinator for Hornsea Community First Responders, added: "It is very rare that we hear the outcome after helping our patients. It was great to meet David again, see him up and about, and be able to follow his progress.
"Being part of a CFR scheme means we get to meet some wonderful people, often at a sensitive time in their lives. We are CFRs for the love of people and the community and, without the support of Yorkshire Ambulance Service, we would not be able to do this."
Team member Mally Simons was also presented with a certificate after being highly commended for his commitment to volunteering.
Paul Stevens, Head of Community Resilience at Yorkshire Ambulance Service NHS Trust, said: "It was a very special moment to see the Hornsea Community First Responders reunited with one of their patients.
"We're really proud of these fantastic volunteers who make a valuable contribution every day and presenting them with certificates of commendation is our way of saying thank you for going above and beyond the call of duty."
Produced by: Corporate Communications Department