Team YAS and Barnsley FC join forces for CPR training
19 September 2018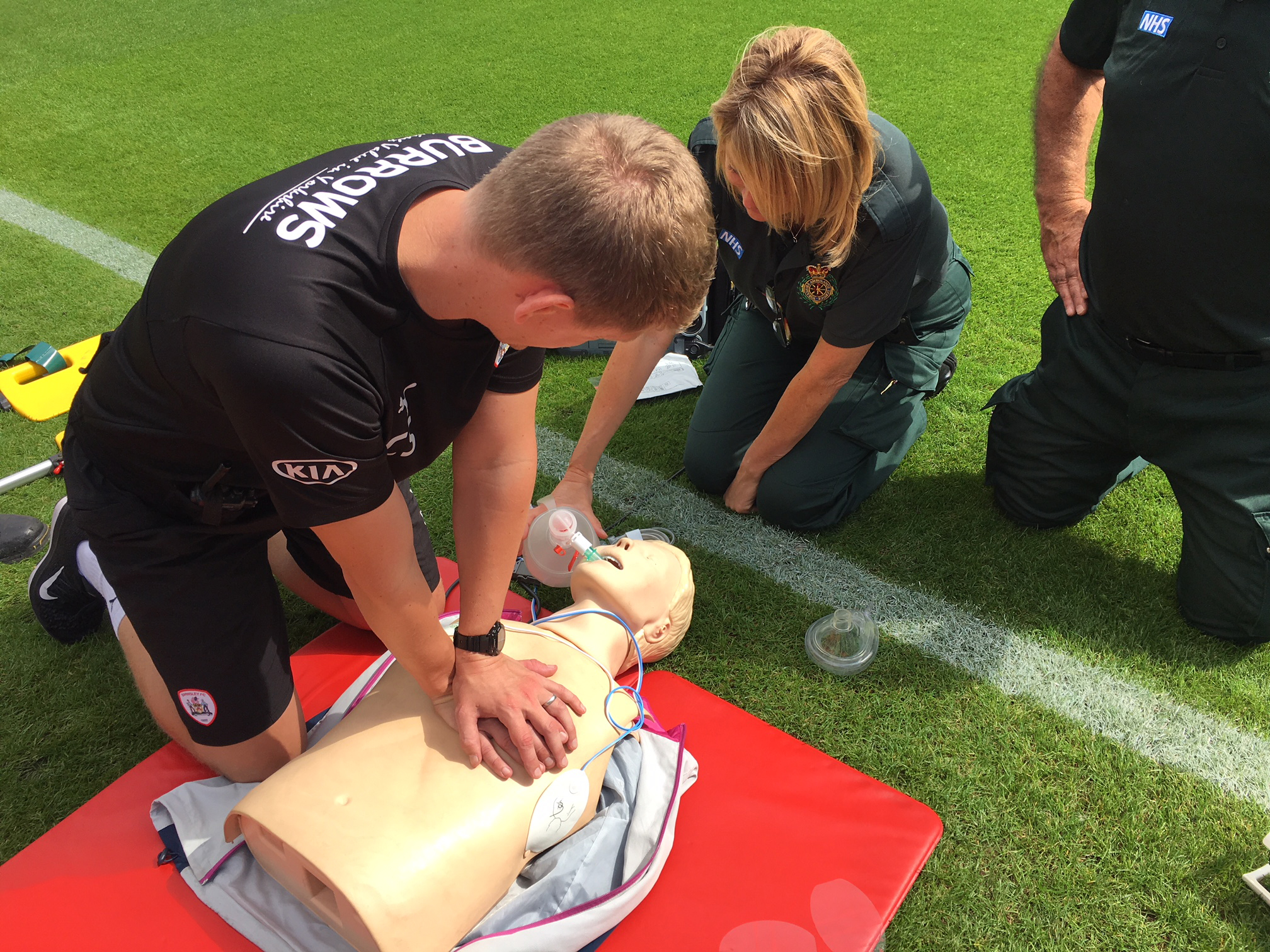 Yorkshire Ambulance Service NHS Trust (YAS) is teaming up with Barnsley Football Club to teach life-saving skills as part of a special event called 'Kickstart a Heart'.
Before the match against Burton Albion at Oakwell on Saturday 22 September, Community First Responders will be on hand to show people how to perform cardiopulmonary resuscitation (CPR) in the event of someone suffering a cardiac arrest.
'Kickstart a Heart' is taking place ahead of Restart a Heart Day on 16 October 2018, which will provide CPR training at secondary schools across Yorkshire.
Currently in the UK, less than one in 10 people (8.6%) survive a cardiac arrest. If we achieved the same survival rates of countries like Norway (25%), where CPR is taught in schools, an additional 100 lives could be saved each week - the equivalent of approximately 5,000 every year.
Emma Scott, Community Resilience Manager at Yorkshire Ambulance Service NHS Trust, said: "We're really looking forward to working with Barnsley FC to teach their fans how to perform CPR. Because football matches attract a large number of people, they're an ideal opportunity to highlight the message that doing something is better than doing nothing when someone suffers a cardiac arrest."
Football fans will also be able to find out more about volunteering opportunities with YAS and the work of the Yorkshire Ambulance Service Charity.
Charitable Fund Manager Danielle Norman added: "The Yorkshire Ambulance Service Charity is committed to supporting the life-saving work of YAS. Together, we want everyone to have the skills to help other people in a medical emergency. We know that in the event of cardiac arrest, the ability to start CPR as soon as possible dramatically improves a patient's chance of survival.
"We would like to say a big thank you to Barnsley FC for supporting our 'Kickstart a Heart' event."
Gauthier Ganaye, Chief Executive of Barnsley Football Club, said: "We're really happy to support such an important cause, raise awareness and teach new skills to our fanbase. This is a superb initiative and we're delighted that Yorkshire Ambulance Service has entrusted us to host it. We urge all fans to come and get involved."
There will be a CPR demonstration outside the club shop at 12.30pm, with further demonstrations around the pitch at 1.30pm and in the East Stand concourse at 2.15pm.
Produced by: Corporate Communications Department