Yorkshire Ambulance Service launches 999 awareness campaign
29 March 2018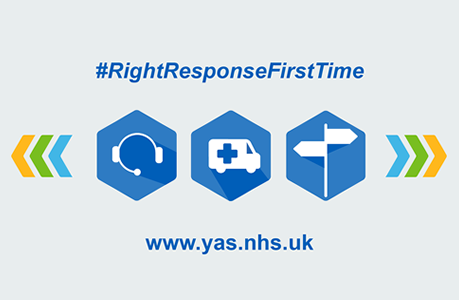 Yorkshire Ambulance Service NHS Trust has launched a Right Response First Time campaign to highlight the different ways in which we respond to 999 calls.
While we will always dispatch an ambulance to patients who need time-critical help in a serious or life-threatening emergency, we know that hospital isn't always the most appropriate destination for patients who need less urgent help.
In 2017, only 67% of our patients who called 999 required hospital admission. When it is safe and appropriate to do so, our less serious calls can be dealt with at the scene (see, treat and refer) or over the phone (hear and treat) by our team of experts.
Stephen Segasby, Deputy Director of Operations for Yorkshire Ambulance Service, said: "Ambulance services have evolved considerably in recent years and are no longer about taking all patients to a hospital emergency department.
"We are focused on providing high quality treatment for our patients wherever they may be; this could be over the phone or in person. We have a range of clinicians with a variety of skills who help us to ensure that our patients receive the right care with the right resource in the right place at the right time.
"Yes, when a patient is seriously ill or in a life-threatening condition they will be taken to the nearest emergency department or trauma unit. But for patients with less urgent needs, the focus is shifting away from acute hospitals. We are delivering more treatment in the home and community settings, providing clinical advice over the phone and working alongside other health and social care partners to offer more integrated care."
The Right Response First Time campaign follows the introduction of new national standards which have changed the way in which we categorise emergency calls.
The new system of responding to patients was introduced by NHS England in November 2017 following the largest clinical ambulance trial in the world which Yorkshire Ambulance Service participated in. More than 14 million ambulance calls were monitored as part of a trial, with no patient safety concerns.
Under the new system, call handlers in our 999 Emergency Operations Centres ask additional questions that can very quickly identify those patients who will be the highest priority; this allows an ambulance to be dispatched without delay. For other types of call, ambulance staff are given additional time to assess the needs of the patient more fully so that the right response can be sent first time. This has resulted in a more efficient tasking of ambulance resources.
Calls are now categorised as follows:
• Category 1 (7 minutes) – life threatening injuries and illnesses, eg cardiac arrest, serious allergic reaction
In the majority of cases the patient will be taken to hospital
• Category 2 (18 minutes) – emergency calls, eg stroke, difficulty breathing, chest pains
In the majority of cases the patient will be taken to hospital, usually the nearest emergency department (ED) but sometimes the nearest ED will be bypassed so they can be taken to a specialist unit for the best care
• Category 3 (90% within 120 minutes) – urgent calls, eg late stages of labour, non-severe burns, diabetes
In some instances patients may be treated in their own home
• Category 4 (90% within 180 minutes) – less urgent calls, eg diarrhoea and committing, urine infections
In some instances patients may be given advice over the telephone or referred to another service such as a GP or pharmacist
Stephen Segasby said: "Our Emergency Medical Dispatchers have been given more time to come to the right conclusion about what is the most appropriate response for the patient.
"Under the new system early recognition of life-threatening conditions, particularly cardiac arrest, has increased because a new set of pre-assessment questions identifies those patients in need of the fastest response.
"For stroke patients this means we send an ambulance to convey them to a specialist stroke unit, when previously a rapid response vehicle would 'stop the clock' but couldn't transport them to an ED; now they get to where they need to be for definitive care more quickly."
Produced by: Corporate Communications Department