Yorkshire Ambulance Service Staff Commended for Outstanding Contributions
03 December 2018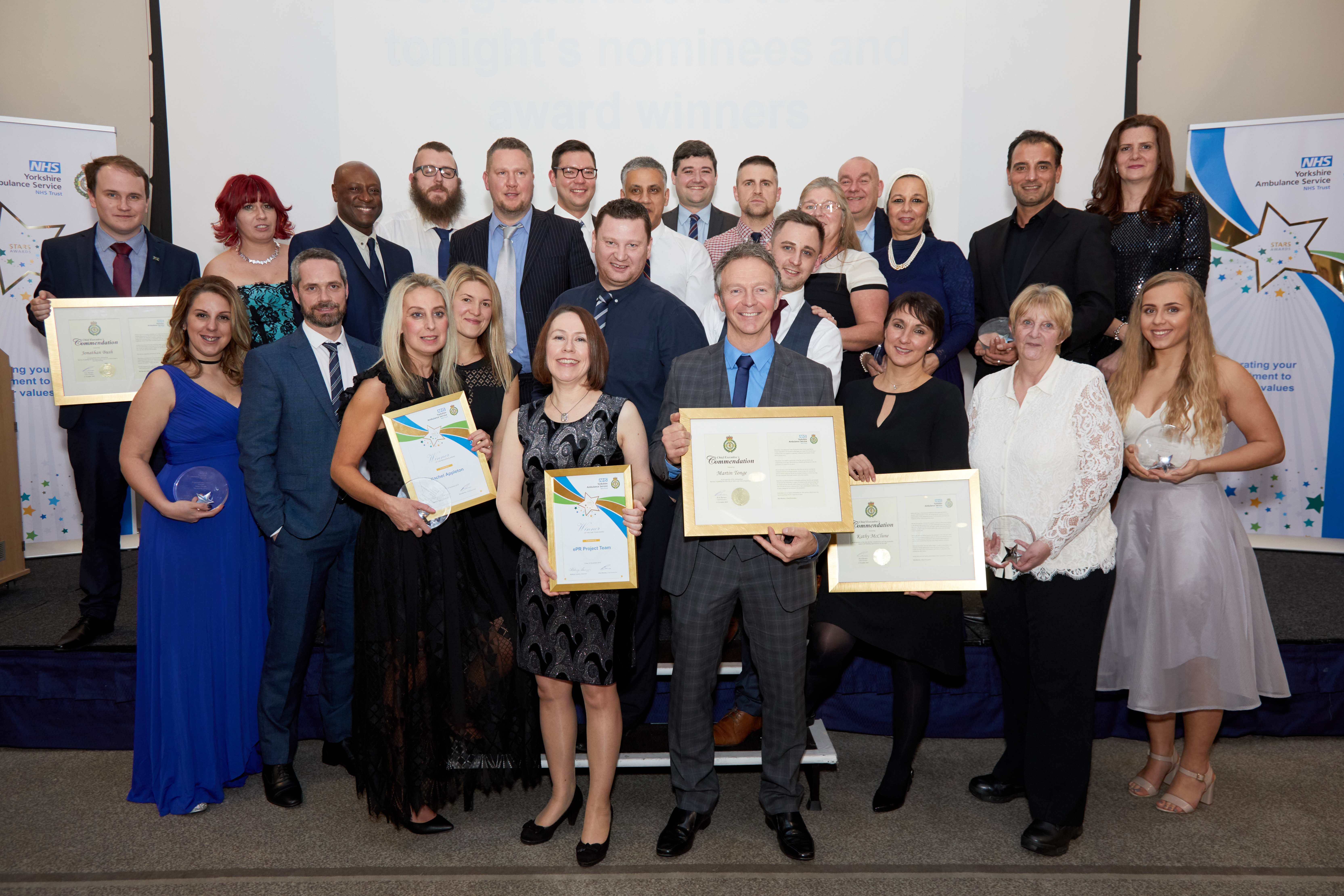 Yorkshire Ambulance Service NHS Trust (YAS) honoured staff for their outstanding contribution at the annual Stars Awards 2018.
More than 170 staff and guests attended the event in York on Friday 23 November 2018 to commend those who have gone the extra mile for patients and colleagues.
Chief Executive Rod Barnes said: "The awards are an important opportunity to say thank you to some of our staff for all they have done and achieved. Without their passion and dedication we wouldn't be able to achieve what we do. It was a privilege to hear some really amazing and inspiring examples of where people have gone above and beyond in acts of bravery and commitment."
Chairman Kath Lavery said: "The dedication and commitment of our staff is without boundaries and I was delighted to see so many at the event to celebrate this success. It is vital that we take time to recognise the outstanding contribution of our staff and thank them for the care they have given to the people of Yorkshire."
In addition to the main award categories which represent the Trust's core values, there were awards for volunteer and apprentice of the year, commitment to diversity and inclusion, as well as Chief Executive's Commendations for staff who perform actions of an exemplary nature at an emergency incident or whilst off duty.
Below is a list of all the award winners and what their nominator said about them:
Compassion Award
Marta Kozak (Emergency Care Assistant, South Kirkby, West Yorkshire)
"She showed compassion and kindness and went above and beyond her job role when she personally funded and arranged a homeless patient's return travel to Poland to be with his family for Christmas."
Integrity Award
Angie Purdie (Patient Reception Centre Coordinator at St Luke's Hospital, Bradford, for Patient Transport Service)
"Her patient care is second to none! Every day she goes above and beyond, whether it's updating patients, caring for patients, or updating clinics and wards if any issues arise."
Empowerment Award
Helen Smith (Acting Team Leader, Emergency Operations Centre, Wakefield)
"Helen's motivation and drive is infectious and she has proved herself to be a significant team player taking on a huge role in the Restart a Heart Day preparations."
Resilience Award
Rachel Appleton (Domestic, Haxby Ambulance Station, North Yorkshire)
"She is not only one of the most efficient, professional, caring and compassionate members of staff, but she also regularly goes well above and beyond her day-to-day duties and responsibilities. She carries out her duties to the absolute highest standard."
Innovation Award
Andrew Hodge (Consultant Paramedic, Wakefield HQ)  
"Andrew is a trail blazing Consultant Paramedic who champions clinical care at every opportunity. He has been the Trust lead on the Paramedic Rotation pilot (which enables specialist and advanced paramedics to work across a variety of settings including primary and community-based care) and developing end-of-life care."
One Team Award
Electronic Patient Record (ePR) Project Team (Wakefield HQ)
Historically, paramedics have responded to emergency calls with little or no prior knowledge of an individual's condition or medical history. The YAS development of the ePR means that paramedics will have access to patient records in transit and are able to record information electronically to handover to the hospital. Access to patient information including medication, allergies, medical history, care and crisis plans can make a critical difference and enable better, faster and safer patient care.

"Feedback on the new ePR is overwhelmingly positive and this is testament to the truly joined-up working from colleagues in Information, Communication and Technology, A&E Operations, Clinical Directorate and Clinical Governance."
Commitment to Diversity and Inclusion Award
Kez Hayat (Head of Diversity and Inclusion, Wakefield)
"Kez's positivity and energy levels are second to none and we are lucky to have him leading our Diversity and Inclusion agenda."

Volunteer of the Year Award

Janice Whitehead (Co-ordinator of the Community First Responder schemes in Armley, Kirkstall and Pudsey, West Yorkshire)
"She has volunteered for ten years and is now a co-ordinator of three CFR schemes! Nothing is too much trouble and I am honoured to work with such a wonderful lady."
Apprentice of the Year Award
Coral Webster (HR and Recruitment Services Apprentice, Wakefield)
"Coral's positive attitude and initiative has made her an integral member of the team. She goes above and beyond what we would normally expect from an apprentice, often tackling quite complex issues."
Chief Executive's Commendations which recognise members of staff who perform actions of an exemplary nature at an emergency incident or whilst off duty
Jonathan Bush (Paramedic, Batemoor, South Yorkshire)
While on his way to work in Sheffield on 21 April 2018, Paramedic Jonathan Bush passed a flat which was on fire with smoke billowing out of the windows. He called the Yorkshire Ambulance Service Emergency Operations Centre and rushed into the block of six flats, banging on people's doors to alert them and help evacuate the property.

Jonathan ran to the top floor flat where the smoke was so dense that there was only about a foot or so of clear air off the ground. He went into the flat, located the occupant and dragged him out as he was dazed and then helped him down the stairs and out of the building.
The flat was completely destroyed by the fire.
This was an incredibly brave act as Jonathan risked his own life to go into a burning building and save the life of an occupant, as well as preventing harm to other residents, some of whom had children, by helping them to evacuate the building quickly and safely.
Kim Fowler and Martin Tonge (Hazardous Area Response Team Paramedics, Leeds)
Hazardous Area Response Team Paramedics Kim Fowler and Martin Tonge responded to an incident in Harrogate on 6 April 2018 involving a workman who was trapped in a partially-collapsed trench about 14 feet below ground level.
The patient was unable to move due to the clay and soil which was compressing on his legs. The trench was unstable and dangerous with the possibility of collapse at any point.
For seven hours, Kim and Martin put their lives at risk by entering the cramped trench for prolonged periods of time to treat and reassure the patient while the fire service worked tirelessly to release his legs. He was eventually freed and escaped with minor injuries.
Both Kim and Martin showed outstanding resilience, bravery and strength of character by continuing to support the patient in the full knowledge that the trench was moving and could collapse on top of them. They put their own lives at risk to save someone else's; their commitment to patient care in such a dangerous environment was exemplary.
Danny Greenbaum (YAS Mechanic, Harrogate)
While off duty on 23 March 2018, Yorkshire Ambulance Service Mechanic Danny Greenbaum stopped to help a man who had collapsed and was slumped over a wall in Leeds.
He quickly realised the patient was unresponsive and not breathing so provided cardiopulmonary resuscitation (CPR) until the ambulance crew arrived.
A return of spontaneous circulation (cardiac activity) was achieved and the patient was taken to Leeds General Infirmary where, that evening, he was well enough to sit up in bed and speak to his family and medical staff.
Currently less than 1 in 10 people in the UK survive a cardiac arrest that occurs out of hospital. Chances of survival can treble if someone having a cardiac arrest is given early CPR and defibrillation.
As a non-clinician, it is never easy to be faced with someone in a life-threatening condition but by initiating CPR, Daniel gave the patient the best possible chance of survival and recovery with a good quality of life. The excellent outcome for this patient was largely due to Daniel's prompt, courageous and selfless actions.
Kathy McClune (Development Midwife at Harrogate and District Hospital NHS Foundation Trust)
Kathy McClune has recognised the need for a greater understanding of the interaction between YAS clinicians and midwives.
She has given up her own time to organise a series of CPD events looking at the obstetric and gynaecological issues ambulance crews may have to deal with. The sessions have also provided a greater understanding of the anatomy and physiology involved as well as the actions and techniques used to improve care.
Kathy has arranged debrief sessions for ambulance crews who have been involved in challenging maternity cases as well as joint training activities with YAS clinicians and midwives to allow mutual understanding of abilities and expectations when they both attend maternity incidents.
Selflessly devoted to her role, Kathy brings a wealth of experience to the enhanced training opportunities which are without question of huge benefit, not only to the YAS clinicians and midwives, but also to the mothers and their babies.
Produced by: Corporate Communications Department